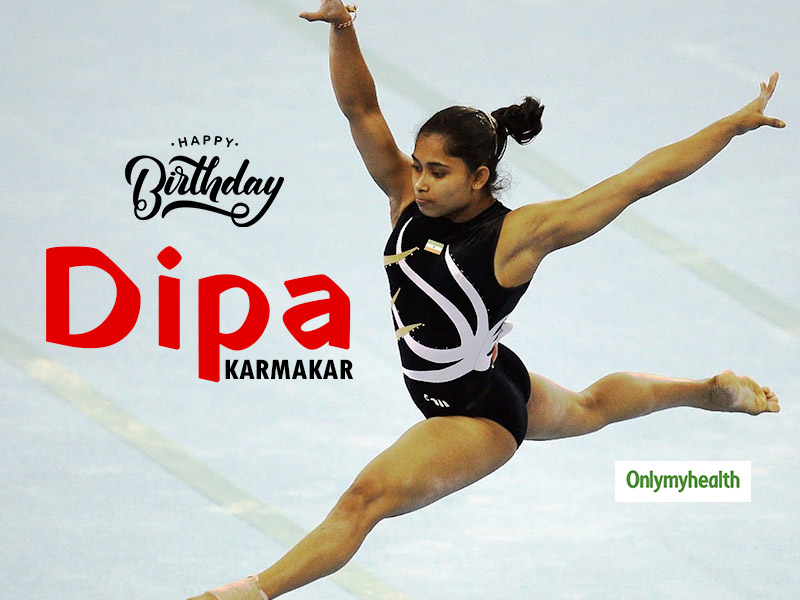 As Dipa Karmakar celebrates her birthday, we would like to tell you some of the fitness and diet secrets of this top gymnast. Read more here.
Dipa Karmakar doesn't need an introduction. It was after her historic win at the 2014 Glasgow commonwealth games, she became a household name in India. She has received the Rajiv Gandhi Khel Ratna Award and Padma Shri award for her brilliant game. Earlier this year, cricket maestro Sachin Tendulkar launched Dipa's autobiography 'Dipa Karmakar: The Small Wonder' which is all about her journey to become the first-ever Indian female gymnast to reach Olympics. It is not easy to perfect gymnastics that too at such an early age. Know how this small wonder keeps herself fit.
Dipa Karmakar's Workout Plan
Gymnastics might look like an easy sport but actually, it is one of the most difficult and risky sports. Climbing, rolling, flips, landing on a vault, all might seem very smooth to you but in reality, it requires a flexible body and extensive strength. A gymnast needs to have great body strength, high muscular endurance and agility. Here is what Dipa does to keep her gymnast physique.
Dipa is very strict about her workout plan. She wakes up at 7 am and eats her breakfast by 8. After her breakfast, she heads for her routine practice session. Her training starts from 8:30 am till 12 noon. After an hour or so, she takes lunch and then rests for 2 hours. The second round of training starts at 4:30 pm till 8:30 pm. After that, she eats her dinner and goes to sleep.
This is her everyday routine.
View this post on Instagram
Also Read: Practice these 3 simple exercises to improve your core strength
Once in a week (Mostly Sundays), she takes rest. She doesn't exercise on that day. In an interview, Dipa told, "It is the only day of the week I wake up at 9 in the morning. It is a lazy day that is mostly spent on sleeping or watching movies online. For me, sleep is really important as that is the only way my body can recover."
Ahead of international competition, she practices exercises related to strength training, agility, static, flexibility and dynamic movements. She also does stretching and muscle training.
Also read: Working For 8-9 Hours? Tips To Maintain Your Fitness Regime
Dipa Karmakar's Diet Plan
Dipa is a sportsperson and hence she needs to load her diet with proteins. Most of the times, she eats chicken but her favorite protein food is fish. Whenever she pays a visit to her hometown, she eats fish without a fail.
What she eats in a day
For Breakfast: Dalia, egg, chana and milk.
For Lunch: Boiled chicken
Dinner: Chicken and vegetable soup
Also, it is very important for a gymnast to keep their body hydrated and maintain electrolytes in their body. As an intensive workout leads to the loss of fluids in the body, it is essential for them to keep their hydration game strong. Therefore, she keeps on drinking energy drinks and juices throughout the day.
Read more on Exercise & Fitness