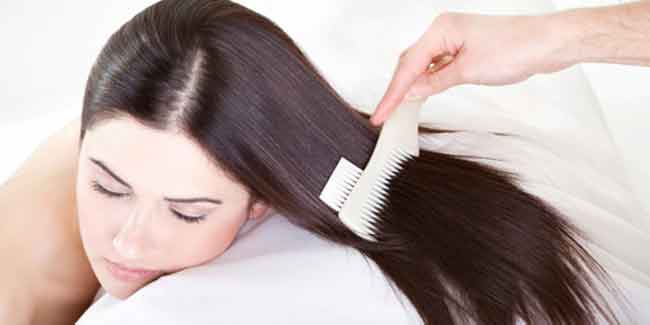 While you may think exposing your hair to harsh chemicals in a rebonding session is a way to beautiful hair, do not forget that not taking care of the tresses will only leave you with no hair much later in life. Here are tips on hair care after re
Rebonding is a very popular process used to transform dull hair into shinier, brighter and healthier looking hair. One can easily straighten up the most stubborn curls within a couple of hours by way of rebonding. Although, rebonding sounds like a dream come true for most women with frizzy, curly or unhealthy hair, it is a process by which chemical substances are forced on to the hair strands. The chemicals, if put on the right way, work the hair to make them look as if they are naturally straight. This, however, depends on how and where a person gets rebonding done from. Here are some tips to be taken after rebonding hair.
Hair Wash
Ensure to wash hair only with cold water because mild warm water may extract all the solution that is put on the hair during the rebonding process. Furthermore, wash your hair regularly to avoid the retention of any residue of the chemical hair care product.
Avoid Using Heat on Hair
Using heat to straighten hair or dry wet hair is always harmful, especially after rebonding hair. Heat makes the hair dull and dry. To ensure the straightness is durable, avoid using hair dryers or straightening equipments after rebonding.
Use Wide Toothed Comb
Remember to use a wide toothed comb to settle the hair strands. This is because rebonding exposes the hair strands to many chemicals and makes them weak by the end of the process. To avoid breaking or stretching of hair strands, use a wide toothed comb and preferably one that is made of wood and not plastic. A wide toothed wooden comb will smoothly run through the hair without stretching or breaking it.
Keep Hair Mositurised
The chemicals make the hair dull and dry by the end of the process. Make sure to keep them moisturised by applying a conditioner at least twice a day.
Avoid Sun Rays
Keep your hair hidden from the sun's rays. This is because the chemicals that rebonding uses, if exposed to the sunrays, may give rise to problems such as dandruff, dry hair, hair loss etc.
Avoid Use of Chemicals
Avoid using chemicals on your hair. Eat a healthy diet to make your hair feel healthy and strong.


Image courtesy: Getty Images
Read more articles on Hair Care Basics