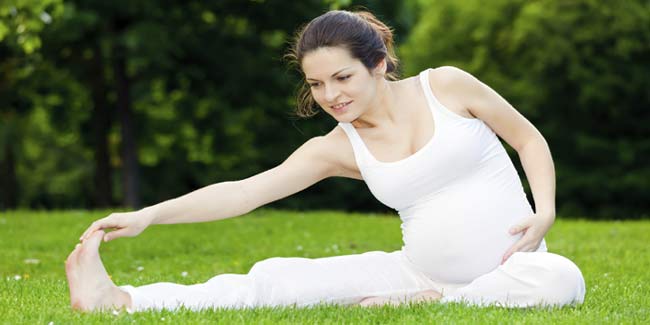 While exercising during pregnancy, one has to abide by certain guidelines so as to make sure that the baby is safe inside the mother's womb.
If you have been following a regular exercise program prior to your pregnancy, you should be able to maintain that program to some degree throughout your pregnancy. Moderate exercise during pregnancy increases the newborn child's brain development.


A regular exercise regime will not harm your baby and can help you prevent certain pregnancy complications like pre-eclampsia. Being physically active during pregnancy can also help you to have a shorter labour and increase your chances of a normal delivery.

Some befits of regular exercise during pregnancy are:
Eases back and pelvic gridle pain.
Helps maintain a healthy weight.
Gets you to sleep sound.
Helps in reducing depression and improving self-esteem.
Best Exercise for Pregnant Women
Choose an exercise which gets your heart pumping, burns your calories to manage weight gain, and prepares your muscles for labour and birth.

Brisk walking, swimming, and cycling on a stationary bike are good, safe exercising options for pregnant women. But one should not overdo them.

You can also get yourself enrolled to a prenatal yoga and Pilates class for strengthened and toned muscles that ensure easy labour.

A combination of all these exercises is an ideal option. Do three, 10-minute sessions in a day of moderate intense activity- in all 30 minutes is all it takes to be fit while being pregnant.

Exercises that are Not Recommended during Pregnancy
Sports that may put you off-balance should not be practised when pregnant. These include horse-riding, skiing, gymnastics, waterskiing or skating and cycling.

Contact or collision sports, such as football, rugby, tennis and squash, are also risky, because you may be hit in the stomach.

Precautions for Exercising during Pregnancy
One can do moderate exercises as long as your doctor has told you otherwise. Ideally, you can wait till the second or third trimester to begin exercise so that morning sickness has improved. But it is alright to start gently even at the onset of the pregnancy term.

Intensity of Exercise during Pregnancy
During pregnancy, exercise shouldn't be done till exhaustion. Going by the basic rule, the intensity of your exercise should allow you to hold a normal conversation while exercising.

Always listen to your body. You must stop when it tell you to. Warming u before exercising helps, so does cooling down after it. How you are feeling must act as an indication if you are going overboard.

Even if you practised high-impact workouts before pregnancy, it is time to ease it off. Too much stress shouldn't be exerted on your joints and pelvic floor muscles.

Signs That Tell You to Stop Exercising
Chest, leg, joint or stomach pain
Dizziness or feeling faint
Shortness of breath
Vaginal bleeding or loss of fluid from your vagina
Difficulty with walking
Contractions

While you exercise, be aware of your baby's movement. Immediately take a break if they appear to slow down or stop. If things don't feel right, practise caution and talk to your doctor immediately.

Reasons for Not Exercising during Pregnancy
Exercising during pregnancy is strictly prohibited if:

You have gone into premature labour or have had a threatened miscarriage during your current pregnancy.
You have a low-lying placenta (placenta previa) after you are 26 weeks pregnant.
You have cervical weakness.
You are pregnant with more than one baby.
You have serious heart or lung disease.
You have persistent vaginal bleeding.
You have very high blood pressure.

While you can rely on above mentioned guidelines, you must consult your medical fractioned before starting any exercise regime when pregnant. Remember, nothing is more important than your own and your baby's health.
Read more articles on Pregnancy Exercises.