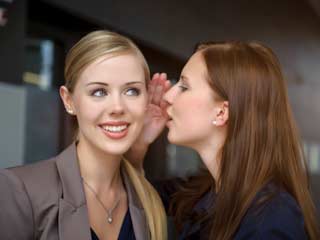 A study done by psychologists in Netherland, suggests that hearing positive or negative gossip about others helps people improve, promote and protect themselves in their social environments.
Gossip is called off for being the root of all evil but a new study claims that gossiping can help us adjust to a new social environment, improve on ourselves and disclose potential threats.


Psychologists at the University of Groningen in the Netherlands have found an explanation to why women appear more sensitive to gossip than men. Their findings also challenge conventional thinking that negative gossip is a form of malicious behaviour, showing instead that people who receive gossip use it for self-protection.

"For example, hearing positive stories about others may be informative, because they suggest ways to improve oneself," says lead researcher Elena Martinescu. "Hearing negative gossip may be flattering, because it suggests that others (the gossip target) may function less well than we do. However, negative gossip may also be threatening to the self, because it suggests a malign social environment in which one may easily fall victim to negative treatments."

"Gossip is not just idle talk or another pleasant way to kill time, but it has a fundamental role in helping people evaluate themselves and formulate expectations about where they are in relation to their social environment. It is so prevalent in all human societies because it has such an important role in self-evaluation," she adds.

When we find out about the achievements and miseries of others, we realise how we are doing. The study exposed groups of volunteers to sets of positive and negative gossip about someone in their own work groups. An example of positive gossip would be: "He's very creative with ideas, when he tells something, everybody believes him, and that's a really good thing." Similarly, negative gossip nugget would be: "He didn't do enough for our group, we were all busy with the upcoming presentation, and he did nothing."

It was discovered that both positive and negative gossip increased alertness among receivers.

But higher levels of alertness were in noticed among women who received negative gossip compared to those who received positive gossip. "This is in line with theories that women are more connected with their social environments than men are," Martinescu said.

The study was published in Personality and Social Psychology Bulletin.

Source: The Telegraph

Image: Getty

Read more Health News.