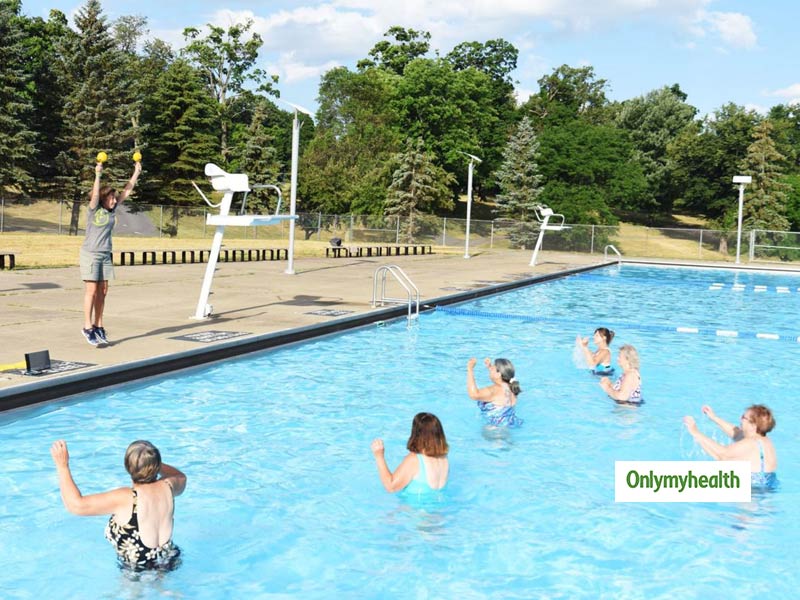 Refresh yourself with a new fitness regime. Try these water or pool workout which will not only enhance your flexibility but also makes your body toned...
Are you bored with the mainstream workout? Want some refreshment in your fitness routine? Opt for a water workout for maximum weight loss
Pool workouts are the best way to refresh yourself. Now you must be thinking about swimming. Not just swimming, there are other usual exercises, which can be performed inside a pool. Doesn't it sound fun? Here's why you should indulge in a water workout.
Why choose a water workout?
Pool or water workout is an excellent cardio and strength training exercise. Mainstream workout can be a little boring, but just 15 mins of working out in the pool can refresh you. When you are in the water, your body moves against gravity; this is the reason why every part of the body is worked upon. Here are a few benefits of water/pool workout:
Exercising in water can improve the flexibility of the body more than any land exercise.
It helps in relieving pain.
Water tones the whole body and even relaxes you at the same time.
Water provides 15 per cent more resistance on the same exercise than that of land.
Pool workout is ideal for people with injuries and back problems.
30 minute of water workout improves metabolism and burn the calories.
What all water exercises can be done?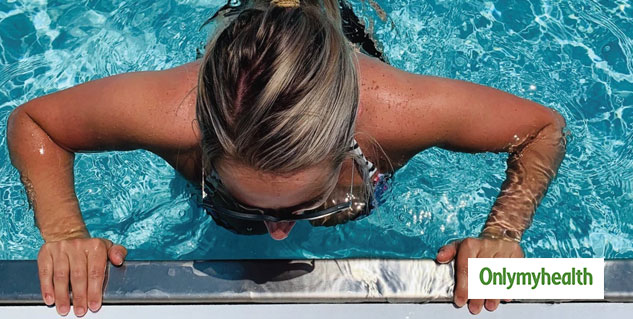 Swimming is considered the best full-body exercise. However, not just swimming there are other exercises which you can perform in water or pool. Even if you don't know how to swim, don't panic. This can be done by everyone, irrespective if you can swim or not! Here are a few water exercise, which can burn calories. You can try them thrice a week.
Start With A Warm-up
Like any land exercise needs warming up, so does the water exercise. Walk in the pool for 5 minutes, or you can do high knees warm-up for 5 minutes, taking a break of 10 seconds in between.
Perform dips
Sounds easy? This dip or specially tricep dip will be helpful for entire upper body and will engage your chest, back, triceps and shoulders.
How to do
Put your palms on the poolside and slide your butt with your legs extended in front of you.
Straighten your arms and shoulder.
Press yourself as high as you can.
Hold this for 10-15 seconds and then lower yourself.
Repeat this for 10 to 20 times.
Arm workout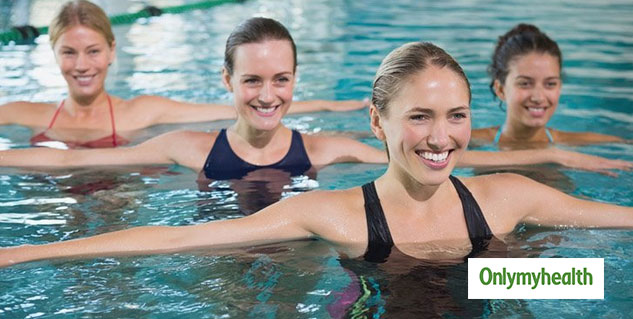 To work on your biceps and triceps, you need to move your arms. The faster the action, the higher the results. Arm curls are the best exercise which can be performed in water.
How to do
Stand in water with your feet apart and turned out.
Your shoulders should be partly submerged in the water.
Using your arm, form a T through your elbow.
Your palm should face your chest and allow your finger to touch.
Extend your arms so that your arm is in a parallel position.
Repeat it for 15-20 times.
Leg water workout
Want to tighten up your leg muscles? Try leg curls, which will make you work twice on your leg as compared to land. This will make you go against the water.
How to do
Stand comfortably with your feet together.
Extend your arm and hold the edge of the pool to maintain balance.
Bend left knee performing butt kicks with your heel and butt.
Repeat it with the right knee.
You can perform it for 20 times.
Jumps
Jumping underwater? Isn't it amazing? This will engage your glutes and thighs. This exercise is extremely beneficial for those who love to wish to lose weight in a short period. It requires a lot of energy, but the results are excellent.
How to do
Stand with slide feet and open up your shoulder for maintaining balance.
Squat low, putting your joints underwater.
Jump up with arm lowers and squeezing butt.
Repeat it for 20 times.
Cross
Cross workout or scissors will strengthen your inner and outer thighs against the water current.
How to do
Lean on the pool wall.
Hold the edge for support.
Raise your legs parallel to the pool bottom.
Spread your leg as wide as possible.
Do it for 20 times.
Written by Stuti Mishra
Read more on Exercise & Fitness