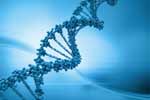 According to international researchers, designing drugs for different areas of the DNA that increase one's risks of developing rheumatoid arthritis can help to cure it.
A team of researchers have found that over 40 new areas in the DNA increase the risk of rheumatoid arthritis. This study has been said to be the largest genetic study that has been carried out ever with over 30,000 patients involved in it.
According to the investigators, new drugs were developed to target different areas of the body that are more susceptible to provide cure for the disease. Researchers compared DNA of arthritis patients with those who did not have the disease. They found that there were 42 faulty areas that were linked with rheumatoid arthritis. It is hopeful that new drugs will be developed to compensate for the faults.

The lead researcher of the study, Professor Robert Plenge of Harvard Medical School, found that one of the areas produced weakness that was treated by an already existing drug that was also developed by trial and error instead of specifically being made to correct or alter the genetic problem.

Plenge said that the findings could help in the designing of new drugs.

The findings of the study were published in the journal Nature.
Source: BBC News
Read more Health News.