In the modern world, the onus on keeping fit is at an all time high, and there are so many ways to do this. Having healthy arms can be a source of pride; after all, you could show off those shapely arms to people. The truth is that no one wants thin arms; this is why most people focus so much on arm training. For the lazy lot, arms exercises could mean a whole lot of trouble, but the truth is that arms exercises can fall under the category of sitting exercises. Exercises while sitting are a great way to utilise your idle time, in doing something fruitful for the sake of your body, so why not? What better way to get your arms in shape than exercising while sitting?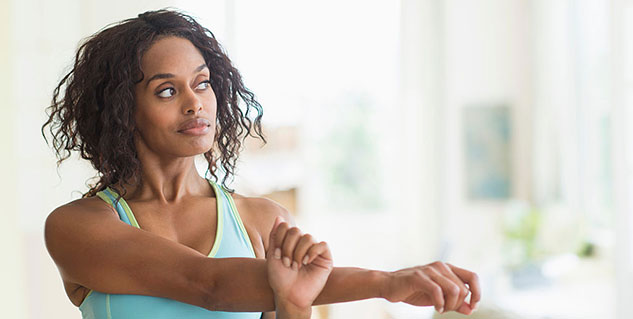 Image: Getty
All you require for these exercises is a resistance band. Here we bring to you some of the best arms exercises that can be done when sitting, these are sure to bring about some personality to your arms, so check these out.
Pulling a Sword
The very first arms exercise for you when sitting down is this, and of course you require a resistance band. For this you would require to sit on one end of the band and then cross it to the body, thereby holding the other end. You are required to reach out to the holding arm up and out, much like you are pulling a sword. During the extension of your arm, you need to be sure that your wrist is straight. Then finally you have to resist the arm back down, thereby passing your shoulder and ending it at the hip. This exercise is a quintessential sitting down exercise that is sure to shape up your arms.
Sweqity
This exercise again falls under sitting exercises, where you sit with the band under your backside, and hold the end of the band for resistance. You need to keep your elbow and your wrist in a straight line, at shoulder height, while the palm is facing down. You need to resist your hand so that it is away from your body, then keeping your arm bent, you should draw your elbow out to the side. Then once again go back to the starting position. This is an effective movement, but you must execute it well, and make sure to keep the tension in the band the entire time.
Liberty
In yet another exercise while sitting, you need to hold one end of the resistance band, and then turn your palm towards your body. This will assume an L shape with your arm, so you should take note of this. In the liberty exercise you then have to point your fingertips up to the ceiling, slowly reach the band and arm straight up while your elbow is in front of you. With your arm moving up, you should be careful to pull your shoulder back and down. A great sitting down exercise to work on your arm will help your bicep.
External rotation
Another sitting exercise, this again requires you to sit with the band under your backside and hold the band on the opposite side of this band. Now hold on to this opposite side of the resistance band, and move your palm upwards, towards the ceiling. Make sure that your elbow is locked into your sides while you are doing this. From this position you should rotate the band and hand outward, thereby, opening your shoulder. Your shoulder should be resting down.
Top image source: Shutterstock
Read more articles on Exercise & Fitness.
For more related articles, Download OnlymyHealth App.