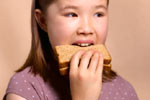 Food allergies are rising in kids born in the west, developed countries.
For Indians, allergies are mostly to do with a runny nose, a rash on the skin, etc, which is why allergy to food is not even taken remotely seriously. Allergy to foods or other consumables like medication and dust or pollen can trigger symptoms such as mild to severe and life-threatening condition aka anaphylaxis.
It is important for Indians to make sure that they are aware about the problem of food allergies because they are on the rise and are occurring more prominently in Indian children living abroad. There are several researches being done to find out the exact cause of the condition and why children of Indian-origin who are born in the west, have a higher chance of suffering from it.

Although, children as well as adults may be allergic to any type of food, the top 8 food allergens include tree nuts, peanuts, walnuts, pistachios, walnuts, dairy, sesame, fish, egg, soy and wheat and shellfish. Indian-origin children are said to be most commonly allergic to chickpea and thus, the related besan or gram flour and chana dal. Certain fruits such as strawberries and kiwi are also found to trigger allergies in people.

Parents are often quick to tell if their child is allergic to a certain food or not. So, most allergies get discovered during childhood itself; however, there is a possibility of the children developing the allergy again when they grow old to become adults.

Eating a certain food that one's body is allergic to can lead to allergic reactions in the form of skin rash, itching, hives, water of the eyes, runny nose, swelling of face, eyes or lips, vomiting, stomach ache, feeling faint, diarrhea, feeling of tightness, closure of throat, wheezing, unconsciousness and inability to breathe.
Prevention is Cure
• If your child' friends are having a sleepover at your home, it is wise to find out from their parents what foods are safe to eat for them.
• Make sure that you check the labels of foods to see if they contain any allergen. This also includes checking the label of the oil that you use for cooking.
• Do not mix spoons as well as plates during both cooking and serving.
Image courtesy: Getty Images
Read more Health News.