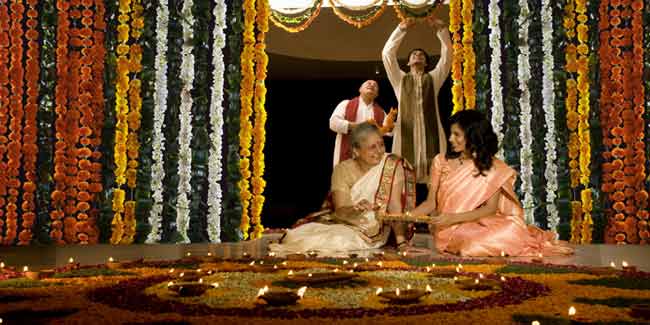 Use light effects, go green and get matching decorative pieces for giving a festive look to your home without digging deep into your pocket.
Giving your home a makeover is an important part of any festival, and Diwali in particular. As you cannot renovate your house every year, giving a new look may require only making some subtle changes that bring out a new look. It would need simple changes such as tinkering with lights, lampshades, sofa covers and little minor decorative articles.
Light It Up

If you thought creating great effects with light involves spending a lot, some ideas can surprise you. Ever thought of changing the colour and style of your lampshade? You can bring about an entire new look to your room merely by getting festive, bright and catchy lampshade colours. Hang lanterns, place trendy tea light holders at appropriate corners and do everything based on creating a theme. You may choose to go trendy or artistically ethnic.

From regular lamps to energy efficient LED bulbs and traditional diyas and candles, you can light up your interior spaces in many beautiful ways. Adorn your home with gorgeous t-lite holders, statement candelabras and luxurious chandeliers. String lights, brass lanterns, mashal torches, paper lanterns and floating candles are great for the outdoors.
Match Embellishments
It would be advisable that you do not get new sofa covers, cushions, curtains or upholstery that requires you to dig deep in your pocket. Simple cotton curtains in place of heavy silk ones, a Zari border chatai in the room's corner or trendy slip covers for your plain chairs are enough to brighten up your home. Keep in mind the theme for your makeover, but the bottom line should be that the embellishments give a better look to your home.

For instance, you can paint a couple of old light bulbs to your fancy and tie them together with artificial flowers, twigs and dry leaves to make beautiful bandhanwars and hangings. Don't throw away cards from friends and family members, instead, tape them onto a wide satin ribbon and hang them on your front door.


Go Green
You can give a green look to your home by placing a rubber plant in a corner. You can also place a real mogra or fern around the house to give a refreshing look and make for a fragrant ambience. Vases with real or imitation roses can also do wonders in giving a new look. Get tall glass vases for putting these flowers. Flowers such as rose or the exotic ones found in the season should be used as centrepieces.

By green, we also mean go eco-friendly this Diwali. A simple tip is to use vegetables and fruits for eco-friendly diyas. You can use capsicum, papaya or coconut. All you need to do is scrape the inner part and make it hollow and then covert it into a diya holder.
Feel Space
Understand the importance of space as a means to feel good about your house. If your house has too many decorative pieces, getting rid of some of them is all that can breathe a fresh look into your home. Make sure that you get your house immaculate clean to have the real festive feeling. Having got rid of objects, invite more people instead to fit in the newfound place!

Go berserk with rangoli. Multihued patterns are in. Instead of rangoli colour, use petals. And they don't have to be only Marigolds.
Use Snaps
Use snaps of scenic locations and historic places as decorative items. If you are a little handy with Photoshop software, brushing up the images would not be too difficult. Get their coloured printouts for framing. No need to look elsewhere for a cool decorative piece than your old snaps!

We all have gone through this dilemma of deciding what to do and what to leave and that's why, what we have here is a budget-friendly and yet impactful ways to make the home festive ready.Happy Diwali!
Read more articles on Festival Fever