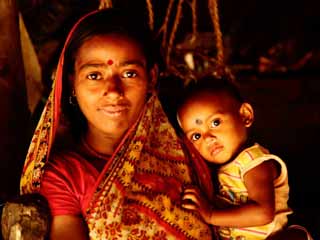 India's dependence on antibiotics could be causing some bacteria to become resistant to medication. Third-World countries have higher rates of bacterial infections.
Deadly superbugs are spreading through India, killing thousands of newborn babies — and other countries are at risk too.


More than 58,000 infants died last year as a result of antibiotic-resistant bacterial infections, according to a study last year in British medical journal The Lancet. Former cures for these bugs are no longer as effective because the bacteria are mutating around them.

The bacteria causing people to fall in come from different places — water, animals, sewage, soil and even babies' mothers — and can be caught at home or in the hospital, according to the New York Times. Babies have weak immune systems, so they're more likely to fall ill after exposure. Nearly one-third of all newborn deaths happen in India.

Hospital births have gone up in India, but with two to three mothers in each bed, plus contaminated water and toilets, it's easy for bacteria to spread — and for antibiotics to be prescribed as a way to deal. Doctors in India, too, make much of their salary from selling medicines.

If antibiotic-resistant infections keep spreading, progress in stopping babies from acquiring other diseases "could slow, stop or even reverse itself," Dr. Vinod Paul, chief of pediatrics at the All India Institute of Medical Sciences and the leader of the study, told the New York Times.
"That would be a disaster for not only India but the entire world," he said.

In fact, the bugs are already starting their spread — superbugs carrying the genetic code NDM1 have been spotted in France, Japan, Oman and the U.S.

Decades-long research suggests that the overuse of antibiotics could lead some bugs to become resistant to them. President Obama vowed in September to take on the issue. Every year, 23,000 people die in the U.S. from antibiotic-resistant bacteria.

Antibiotic use in the U.S. and Europe has dropped between 2000 and 2010, but is growing in developing countries.

Source: Daily News
Image: Getty

Read more Health News.