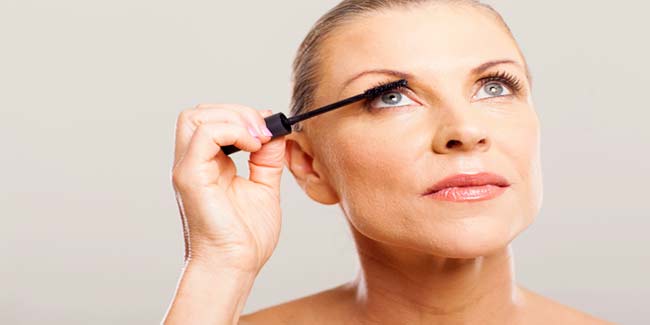 For women over 50, we present eye make-up tips that will help them in hiding the age related flaws and highlighting the beauty of the eyes without looking garish.
As women grow older, their make-up needs also undergo some changes. Naturally the kind of look a 30 or 40 year old woman can carry off, will not be suitable on a woman over 50 years of age. This does not mean that women over 50 have to miss out on the fantastic range of cosmetics and colours available today. She only needs to be judicious with the use of colours, and be aware of certain rules and guidelines to help her create a look appropriate for her age. This is applicable most in the case of eye make up, for eyes are the focal point of a face. The application of eye make-up for women over 50 requires a certain amount of skill and some practice. The following tips will help:
Generally, for women over 50, eyebrows become sparse. So the first thing to do on the way to making up your eyes, is to fill in the eyebrows very lightly, with short, feathery strokes using an eyebrow pencil a shade darker than the colour of your eyebrows.
If you have dark circles under your eyes, you have to tackle that next. Dot concealer on the darkened area and blend, using your ring finger and applying as little pressure as possible.
It is better to use an eyeliner pencil instead of a liquid one, because eye pencils give a softer look, whereas liquid liners look harsh on ageing eyes. Smudging the pencil line slightly with your fingers will make the look even softer.
As women age, their upper eyelids tend to droop somewhat, giving the eyes a half closed look. This can be corrected to a certain extent by the right use of eye shadow. A light shade applied just under the eyebrow, with a medium shade of the same colour palette over the entire upper lid, will make eyes appear larger and less droopy.The right choice of eye shadow colour will go a long way to age appropriate and beautiful eyes. Golds and browns look gorgeous on hazel and brown eyes. The blue – grey palette will enhance blue eyes, whereas owners of dark eyes can go with darker shades such as dusky pink, charcoal, dark brown or taupe.
As if losing skin tautness, eyebrow hair, and having droopy eyelids (and a host of other such negative things) was not enough, a woman's eye lashes tend to thin as she ages. This makes it a little difficult to apply mascara. To combat this, start at the base, and gently move the mascara brush sideways, and then go outwards. This makes the base of the lashes well coated, hence overall they look thicker. Also, remember to cover the smaller eyelashes near the corners of the eyes.
Generally all mascara brushes are straight, although it really makes sense to have them slightly curved, because, afterall our eyes are curved. So when you open a new container of mascara, slightly bend the tip part of the applicator, holding it with a tissue.
There is no escaping it, we all have to grow old; but women can grow old gracefully and there is nothing wrong with keeping oneself attractive while doing so.
Read more articles on Eye make-up