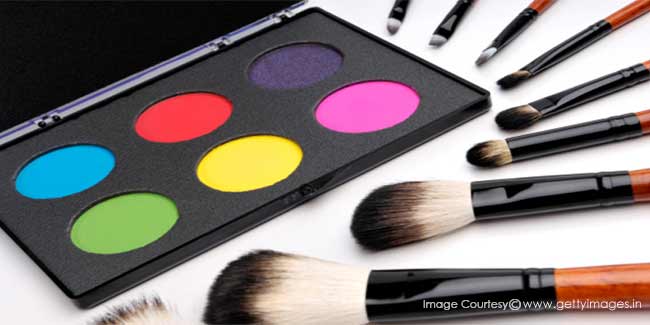 Know the different types of eye make-up brushes for experimenting with your looks. They come in various sizes and shapes. Read here for the right kinds.
There is a variety of eye make-up brushes available in the market and often one gets confused which ones are really useful and which ones are not.


Eye make up brushes are useful tools to help you do a near professional job. Correct use of such brushes will help you achieve precision and an overall effect of smoothly applied and well blended eye make up.

For specific use in the eye area, several types of make up brushes are designed. For the average woman a small collection of basic brushes is sufficient. However, for the more adventurous ones, or for women who enjoy experimenting with their looks and spend time doing up their eyes, a more diverse variety is available.

Eye makeup brushes come in two varieties - synthetic and natural. Natural hair brushes could be sable, squirrel, goat etc., whereas synthetic or manmade could be nylon or taklon. Natural bristles are more expensive and often, but not always, a better choice.

Following is a guideline to some of the different kinds of eye makeup brushes available :
Eye Shadow Brush
This is the most basic of all eye makeup brushes. They are much more useful for picking up colour from the container and depositing and distributing evenly on the eyelid than the conventional, miniscule sponge applicator that comes with the eye shadow. These brushes are available in a variety of sizes, and can have short handles for convenience or long handles for ease of use. The hair may be slightly angled or tapered. A must have it is.

Eye Shadow Crease/ Pencil Brush
Great for using darker colours to contour eyes, adding depth and dimension to the eyes. This brush has a domed head and is tapered to fit into your crease perfectly. It will help you in precise application and perfect blending.

Eye Shadow Blending Brush
These are used, as the name suggests, to blend different coloured products and to merge colours seamlessly. The heads are usually tapered and they are not as firm as eye shadow brush heads. They come in a variety of sizes. Another must haves, after your eye shadow brush.

Smudge Brush
These brushes are used for smudging (obviously!) harsh lines to give the eyes a softer look. They are typically flat, with short hairs, and are unique in shape amongst all other eye makeup brushes. You can line and contour your eyes, or add colour and depth to the eyelid with these brushes.

Angled Eye Shadow ShaderBrush
This is a good tool for applying a soft line of eye shadow colour to the lower lash line. They are also great for creating a smoky eye effect by adding shadow to the outer eye.

Angled Brush / Liner Brush
You can use this brush, which has slanted hairs, to apply eyeliner with precision. Can also be used to define the eyebrows, the lash line and the crease.

Eyeliner Brush
These thin , tapered brushes are great for applying liquid, gel or cream liners with precision.

Mascara brush
Though all mascaras come with their own brush or wand, you can keep a separate one to keep the mascara bacteria free. They should be washed after every use. They are also useful for combing unruly eyebrows.

Mascara Fan Brush
The fan shape of these brushes enable clump free and precise application of mascara to both the upper and lower lashes.
Read more articles on Eye make-up