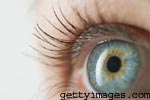 Now, looking at the retina can tell you if you are more or less likely to suffer from Alzheimer's disease.
Changes to certain cells in the retina can help doctors to diagnose as well as track the progress of Alzheimer's.
This result was derived when a team of scientists found the presence of Alzheimer's in those genetically engineered mice that had lost thickness in the particular layer of the eye's cells. The findings of the study were later revealed at the US Society for Neuroscience conference.

According to the researchers, the results of the study would in the future help ophthalmologists to tell if one of their regular patients has Alzheimer's or not. They further added that alterations in the same retinal cells can also help one detect glaucoma, a disease that leads to blindness and is also now referred to as a neurogenerative diseases just like Alzheimer's.

The director of the memory disorders programme at Georgetown University Medical Center, Scott Turner said that the retina is just an extension of the brain and it is therefore, logical to assume that alterations in it can influence the functioning of a person's brain.

Dr Turner added that the result of the study would be a new path forward in understanding the process of the disease in human beings that could further lead new ways of diagnosing or even predicting whether one has Alzheimer's or not.
Read more Health News.