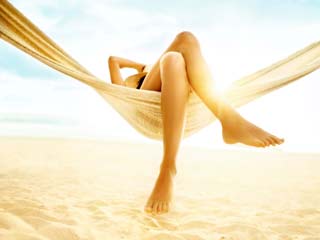 Findings of a recent study conducted on mice showed that exposure to UV rays causes the skin to release gas called nitric oxide that can help in metabolism and weight loss.
Researchers have recently claimed that going out in sun could help you shed extra pounds.

According to the scientists, a controlled exposure to UV rays helps in releasing a key chemical which slows down the development of obesity and type 2 diabetes.

It was found that nitric oxide, which is released by the skin due to exposure to the sunlight, has a crucial role to play in the metabolism.

These findings were made by the researchers at the Edinburgh and Southampton Universities after experimenting on mice. The researchers called for new health advice about the way we treat exposure to sunshine.

Senior lecturer in dermatology at the University of Edinburgh, Dr Richard Weller said 'studies such as this one are helping us to understand how the sun can be good for us.

'We need to remember that skin cancer is not the only disease that can kill us and should perhaps balance our advice on sun exposure.'
Dr Richard's team along with scientists at the Telethon Kids Institute in Perth, Western Australia found that mice who were overfed with exposed UV light had a slowed weight gain.

These mice showed fewer signs associated with type 2 diabetes, like abnormal glucose levels and resistance to insulin.

The UV treatment was found to be linked to a nitric oxide, which is released by the skin after exposure to sun-light.

Nitric oxide has a role to play in the way food and sugar is digested, potentially warding off harmful metabolic conditions like diabetes.

The study has been published in the journal Diabetes and the scientists have warned that these findings are in mice and might not precisely translate into humans.
Image courtesy: Getty Images
News source: Getty Images
Read more Health News.