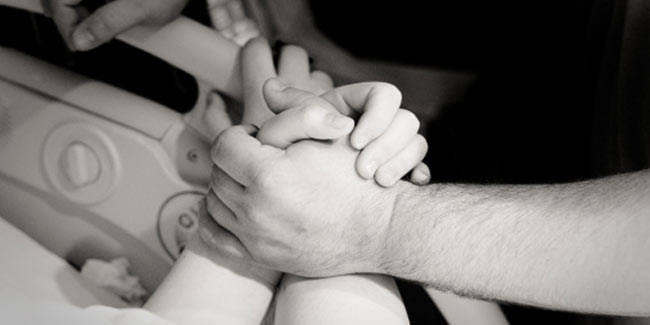 Going through labour pain is the last stage of pregnancy term and the most painful one. Our expert gynaecologist, Dr. Anil Magdum explains how women who are due for their labour can limit the pain by a variety of methods.
Labour pain is one of the most severe pains humans face. Many couples are so much scared for it and few even opt for caesarean delivery to avoid the labour pain.
There are definite ways to reduce the labour pain. Some of them will reduce it to such an extent that you will experience labour as a very pleasant thing as against an event with lots of shouting, yelling and sufferings. These include the non-pharmacological ways as well as pharmacological ways.


Psychological Training
Appreciation of pain as well as response to pain depends a lot on mind set. So various non-pharmacological techniques to control pain during labour focus upon the psychological training. One such technique is called LAMAZE technique. Another technique is Bradley technique. Both these techniques help to increase your understanding of labour and increase tolerance of pain by preparing your mindset without medical intervention. These methods concentrate on breathing during labour, relaxation techniques, and massage by support staff. These things will help for distraction from the labour pains. Support from the staff and family members makes a lot of difference when it comes to tolerating labour pain. In Bradley technique, husband or your partner supports you during the labour and thus helps you to bear the pain with lesser suffering.
Exercising
Women involved in regular exercise or physical activities face the labour pain more easily than those who are not. Antenatal classes which train you in various antenatal exercises will help to reduce the labour pain.
Breathing Patterns
During labour, concentrating on breathing helps to distract from the labour pains and focus on breathing. There is not any particular way of breathing. During labour, any breathing pattern that makes you comfortable can be continued. There is no particular method which will benefit everybody and always.
Changing Postures
Changing postures and positions, walking will help a lot for women in labour. Gravity also helps to some extent to enhance the process of labour. If you have cables attached with your body for IV fluids and monitors or for pain, movements may not possible.
Water Treatment
Water makes a lot of difference for few women in labour. A hot water shower or hot water tub bath during labour can help to bear the labour pain to a large extent.
Pharmacological Methods
Few other non-pharmacological methods which will change the focus of your attention from pain to something else like hypnosis, yoga, meditation, listening to music can also be useful. These nonpharmacological methods will definitely prepare you better to cope up with the labour pain but they will not be as effective as pharmacological methods. So, for those who are worried a lot about labour pains, they may think about these pharmacological methods. Also those women who feel that even after antenatal exercises and other mental preparation classes, they are finding it difficult to cope up with the pain during labour, they can anytime opt for these pharmacological methods during labour.
Entonox which is a combination of nitrous oxide and oxygen is a time tested method and inhalation of this combination gas will give you some pain relief. During labour as soon as you start getting uterine contraction and start feeling the pain, you can start inhaling this combination gas. this is one of the commonly followed methods.

Epidural labour analgesia also popularly called as PAINLESS LABOUR is another pharmacological method which gives you maximum pain relief. In this method a catheter is placed in your back. The pain reducing medication is delivered through this catheter throughout the labour. This is the most effective way of controlling the labour pain. Almost all of the women who opt for this method are happy with it.
Things to Remember
It is difficult to predict which particular method will work for a particular woman in labour. Also, the severity of pain cannot be predicted before labour. So whenever you start with labour pains, keep judging the pain. If it is tolerable and you are OK with it, continue the method. Many women deliver with non-pharmacological measures. But, don't hesitate to ask for additional methods for pain relief if you start suffering. Discuss with your clinical attendant about various methods for relieving pain during labour. Nonpharmacological as well as pharmacological methods will help you to get relief from pain.

So, wish you an enjoyable, pain-free labour.
Article source: Sunrise Hospitals
Image courtesy: Getty Images
Read more articles on Normal Delivery.