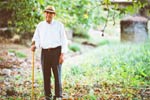 Researchers have found that the popular theory about vitamin D supplements being useful in preventing falls is false.
Researchers have found in their study that the popular theory that vitamin D supplements prevent falls is untrue. The study, conducted by Dr Mark Bolland of the University of Auckland, New Zealand and his colleagues, analysed findings from at least 20 randomised controlled trials that tested potential of vitamin D supplements to prevent falls in 29535 people. The results of the study show that the supplements do not reduce falls by 15 percent or more, implying that the levle of pitfall prevention of the supplements at a population level is very low.
Falls can be extremely painful and devastating for older people and strategies must be taken to reduce the risk of falling as the global population ages. The results of the current study as well as that of previous meta-analyses have been mixed. It is really not quite clear how vitamin D supplements may prevent falls, but there has been enough positive evidence to support that the supplements can be recommended by some health organisations.

Older patients must receive sufficient amount of vitamin D intake from all the sources to really lower their risk of falls as well as fractures. These sources may include diet, sunlight and supplments. In those studies that achieved average serum levels greater than 25 ng/ml, fracture rates as well as falls had reduced significantly. Impact on fractures is highly likely to be because of reduction in falls. In older people, the impact of vitamin D on bone density is remote and the impact on falls is measurable.

The met-analysis has been published in the journal The Lancet Diabetes and Endocrinology.
Article source: Times of India
Image source: Getty Images
Read more Health News.