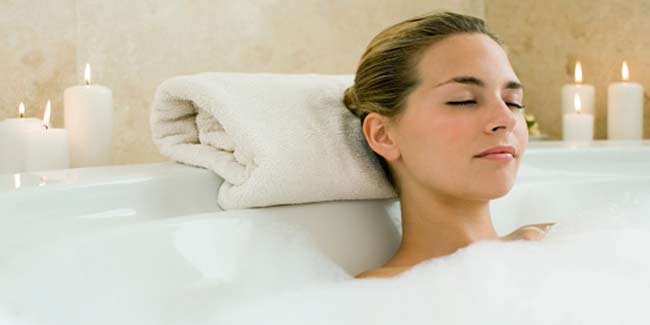 Want a relaxing day of pampering, but don't want to spend a fortune on spa treatments? You can give yourself a great treatment at home with these 5 indulgent ways.
Who has the time and money for regular indulgences at a spa? Recreate the relaxing atmosphere of a day spa with a DIY face mask, a body scrub, flavoured water, and more budget-friendly beauty treatments.


Hang Eucalyptus
Hang a small branch from your showerhead and run the water hot to simulate a steam room. If you are a bath tub diva, you could go for eucalyptus essential oil. An essential oil superstar, it has a long history of widespread application and has been used for medicinal, industrial, and perfumery purposes. Eucalyptus oil is great for all seasons, as its many properties cool the body in the summer and helps protect it in the winter. It also is an instant stress-reliever.
Make Fruit-infused Water
Flavoured H2O feels like such a luxury, but it couldn't be easier to make. Try a combo like strawberry-cucumber. Just cut a handful of slices of each fruit, add them to a pitcher of water, and refrigerate for a few hours to infuse.
You could also go green by adding tart lime and fragrant basil to water, giving it a boost of vitamin C and iron.
Heated Lotion
It's such a simple touch, but it makes a big difference. Microwave your favourite for about 30 seconds, then slather away. Warm lotion gives your skin a softer, silkier feel. Just remember to use warm lotion and not a HOT one.
Body Scrub
For an easy mix, combine 1 cup each of brown sugar, raw oatmeal and olive oil. Apply the mix on dry skin while standing in the shower (to avoid a mess) and then rinse off.

Another great idea is to mix sugar with ground coffee, olive oil and the extracted oil from the slit Vitamin E capsule. Turn it to a paste and scrub your entire body with it. Rinse it off with lukewarm water. Once done, apply a moisturizer of your choice to retain the moisture.


Eye Soother
Cucumber slices are great for reducing swelling, but you can also use tea bags. Chamomile is a natural anti-inflammatory that will ease redness and puffiness. Steep in just-boiled water for a few minutes, cool it in the fridge and then place one bag over each eye for 15 minutes.

Another hack: Place four metal spoons in a glass of ice water. When chilled, place one spoon on each eye, following the contour of your eye socket. As the spoons begin to warm, switch them with the spoons chilling in the glass of ice water. Continue this process until swelling subsides.

So, why spend money on pricey spa treatments when you can make your own natural skin care products at home? Use the abovementioned ingredients to relax your mind while they pamper your body and soothe your soul.

Image Source: Getty

Read more articles on Beauty Treatments.