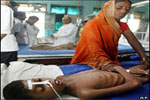 Encephalitis-like disease that had hit the Muzaffarpur district of Bihar has in a fortnight taken the lives of 102 kids.
Ever since the first case of suspected acute encephalitis syndrome was reported in the Muzaffarpur district of Bihar, 102 kids have been reported dead as a result of this disease. Children from the neighbouring districts of Sitamarhi, West Champaran and Vaishali, are also affected by the disease and at least 73 of them have been admitted in the government hospital at Muzzafarpur.


Experts from Atlanta in US arrive in the district on Saturday to treat the children. The request for such treatment was made by Union health minister Dr. Harshvardhan. The CM of Bihar, Jitan Ram Manjhi, Union ministers Upendra Kumar Kushwaha, Ram Vilas Paswan and RJD president Lalau Prasad visited the hospital located in the district to meet the parents of the suffering children.

Encephalitis has commonly hits Bihar in the summer months and every year, at least 100 children die of the disease. The Muzaffarpur civil surgeon, Gayan Bhusan, on Monday said that the number of children who were showing signs of the disease had crossed the 300-mark in the current year.

Bhusan said, "Monsoon rains will provide relief to children suffering from the disease and will help to suppress the virus causing the disease". The Bihar Health Minister Ramdhani Singh said that his department had sent mobile treatment vans as well as 55 doctors from the other districts to Muzaffarpur.

According to the doctors, AES is a bad case of encephalitis characterised by an inflamed brain. The mosquitoes can transmit infection causing high fever among the children. Earlier this year, the state government had launched a special vaccination drive to cover hundreds and thousands of children against the disease.

Article source: freepressjournal

Image source: www.bbc.co.uk

Read more Health News.