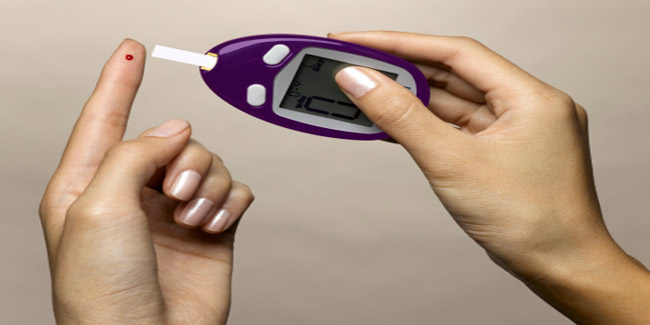 Diabetes leads to poor insulin production or functioning leading to high blood glucose in the body. While you may need medications to fight the progression of diabetes, eating healthful foods can also help you control and improve diabetes.
Diabetes is a condition that causes a person's blood sugar level to rise beyond normal levels. It is usually classified into two types, type 1 diabetes and type 2 diabetes. In type 1 diabetes, the immune system itself destroys the cells that produce insulin leading to higher blood sugar levels. In Type 2 diabetes the body either doesn't produce enough insulin or doesn't react to insulin which leads to high blood glucose. Type 2 diabetes is more common than type 1 diabetes and its symptoms can be controlled by eating a healthful diet and making lifestyle changes.


The quality and quantity of food you eat is very important for your diabetes. Cut down on carbohydrates or balance them with proteins and fats in your diet. You don't have to completely rely on food as water cal also helps mobilize the high sugar content in blood and prevent aggravation. Drink at least 2-2.5 liters of water every day to regulate the physical functions as well as control and reverse diabetes.


Eat Healthful

People with risks of diabetes are recommended to switch to a diet which is rich in protein as it helps in maintaining proper energy levels in the body. It also helps in normalizing the wear and tear of the body by maintaining a high metabolic rate. Also eat loads of fiber in your diet as fiber is highly conducive in controlling blood-sugar levels. Fiber has the ability to absorb sugar present in the blood and facilitating insulin secretion to normalize diabetes. Including whole wheat and multi grains in diet will help you load up the body with fiber content.


Be Smoke-free
Although smoking is not related to your diet, it has a say in your diabetes. It affects your cardiovascular health and hormonal secretions, increasing the risk of contracting diabetes. Excessive deposition of carbon in the blood can result in inhibited absorption of assimilated nutrients. Quit smoking to boost your health and manage diabetes effectively.


Try Detox
Detox or detoxification is the process through which the body neutralizes and eliminates toxins such as ammonia, lactic acid and homocysteine from the body. Such toxins may help your diabetes get worse. Try a detox diet that recommends eating raw and fresh vegetables or vegetable juices. The vegetables are easy to digest and provide ample nutrition to the body. Drinking plenty of water can be very helpful for your diabetes. Such a diet based on fruits and vegetables provides ample nutrition while allowing the body to efficiently perform its natural detox processes.
Image Courtesy : Getty
Read more articles on Understand Diabetes