Holi, the festival of colours is surely a difficult time for dieters. More so because one can really gorge on sweets especially gujiya. So, if you don't want to give up your fitness goals try to atleast avoid giving into sweet temptations.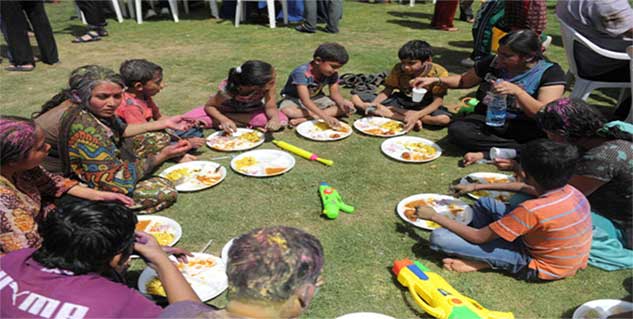 Don't make this festival an excuse to binge on unhealthy calories and accumulate health risks. Here are some of the tips that can help you to eat right on this Holi while enjoying the real spirit of the festival.
[Read: Recipes for Holi]

Eat right and combat overeating
On an average a healthy adult requires around 2,000 calories a day but constant snacking in between regular meals during festivals season results in intake of 1,500 extra calories. You can even enjoy the festival of colors by eating right. This doesn't imply that you kill your desire to enjoy special dishes rather feed you taste buds with a bite or two. Gujjia, papri and kanji ke vade among dozen other dishes are must but you must maintain the calorie consumption, for instance, take a spoonful instead of a full serving for dinner.
[Read: Tips for Safe and Eco-friendly Holi]

Drink lots of water

You can increase water intake and salads to curb your appetite.
Drink at least eight glasses of water for keeping your body hydrated.
Try to stay away from drinks such as thandai and other alcoholic beverages.

Try to be active:
Try to keep your body active and compensate for the extra calories that are consumed.
Don't neglect your exercise routine in the festive celebrations.
Dancing can be one of the ways of losing extra calories post festival.

So go have a gala time with your family but also take care of yours as well as your dear ones health in mind.
Read more articles on Festival Fever