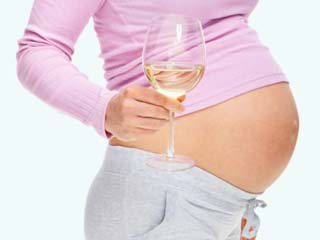 A recent study has revealed that an ingredient, which otherwise considered healthy, can be harmful for the unborn child's pancreas.
Expecting women who like to consume alcohol should avoid consuming wine, warn the researchers.
The researchers have said that an ingredient found in wine, which otherwise is considered to be healthy, could harm the unborn child's pancreas.

Resveratrol has the ability to protect heart disease, cancer, Alzheimer's disease and several other conditions.

Also available as a supplement, this ingredient can be found naturally in red wine, red grapes and some berries.

But, the new study suggests that it can cause abnormalities in the pancreas of the unborn child.

This study was carried out by the Division of Diabetes, Obesity and Metabolism and the Division of
Reproductive and Development Science at Oregon Health and Science University in the United States.

The lead researcher of this study Dr Kevin Gove said 'this study has direct relevance to human health.

'Resveratrol is widely used for its recognised health benefits, and is readily available over the counter.

'The important message in this study is that women should be very careful about what they consume while pregnant, and they should not take supplements, like Resveratrol, without consulting with their doctors.

'What might be good for the mother may not be good for the baby.'

During the study, Dr Grove and colleagues fed resveratol supplements every day throughout pregnancy to obese macaque monkeys who were on Western diet.

There was a second group of obese monkeys who was not given the supplement and both were compared with lean monkeys who were fed a healthy diet.

A close observation of these monkeys was made to monitor health complications and the flow of blood through the placenta was determined by ultrasound.

The foetuses were observed for developmental abnormalities and the findings of the analysis showed definitive evidence of pancreatic abnormalities.

The study was published in the Federation of American Societies for Experimental Biology Journal.
Image courtesy: Getty Images
News Source: dailymail.co.uk
Read more Health News.