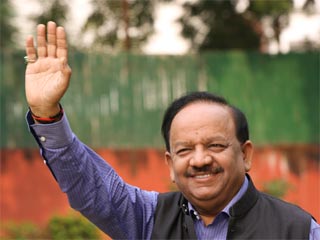 The personal website of Union Health Minister, Dr Harsh Vardhan, stresses on his personal views on sex education; it states that he proposes to put a ban on sex education in schools.
Dr. Harsh Vardhan has been under fire since the last week because of his opinion regarding spreading more awareness about fidelity than the use of condoms. This week he has expressed another of his views on his personal website regarding sex education. He said that the government must ban sex education from schools and make yoga compulsory. These views of his were published in the context of the Delhi elections 2013 when Harsh Vardhan was running as the BJP's chief minister candidate.
The multi-point document advocates a "strong emphasis on exposing students to India's cultural traditions". The website further adds that, "Musical training to be encouraged along with dance and drama. Kothari Commission (1967) recommendations on patriotism, health care, social consciousness and spirituality ("four pillars") will be made part and parcel of Delhi's school education system".

The spokesperson of Delhi BJP Sanjay Kaul, said, "The issue of banning sex education in schools has not been discussed on the party forum. We have no comment to offer". As for now, neither Harsh Vardhan nor the current government has called for a ban on sex education in schools. But, such views are reflective of the mindset of the ministers in Modi's cabinet.

When Harsh Vardhan was faced with widespread criticism of his remarks on condom, he said that he was wrongly represented. He said, "Any experienced NGO activist knows that condoms sometimes break while being used. That is why government campaigns in India, whether through the National Aids Control Organisation or the state governments, should focus on safe sex as a holistic concept which includes highlighting the role of fidelity to single partners." He also added, "Through misleading headlines, an impression is sought to be created that I have misgivings about the efficacy of condoms or that I have a moral problem with condoms. For the past two decades, I have been stressing the need for safe sex using a combination of condoms and discipline which is in line with the Abstinence-Be Faithful-Condom (ABC) line of UNAIDS that has yielded great success in Uganda and forms part of the anti-AIDS campaigns of several countries."

The Union Health Minister is currently unavailable for comments because he is in the US.

Article source: firstpost
Image source: www.india272.com
Read more Health News.