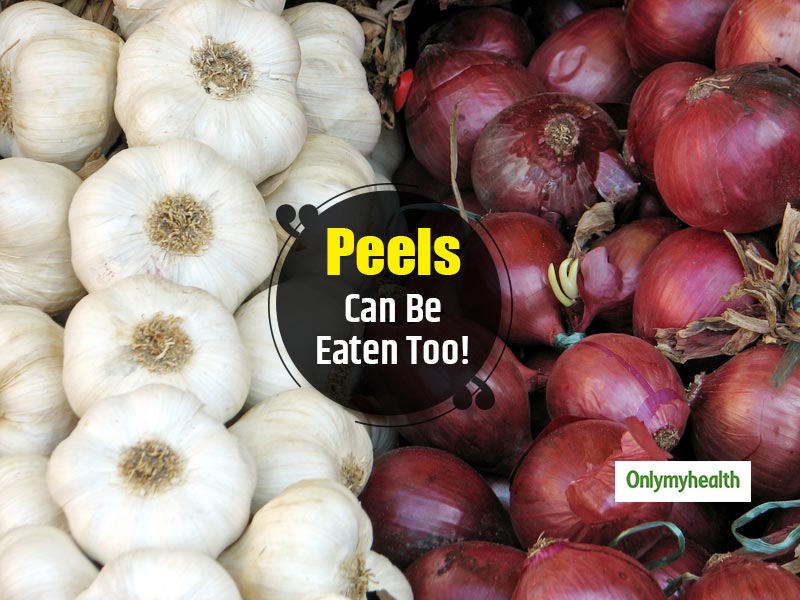 If you throw away the peels of onion and garlic, this article is a must read for you. Instead of throwing them in the trash, here are some ways to utilize them for various purposes.
Have you heard of this culinary trend called 'root-to-stem' cooking? This is indeed the best invention to prevent food wastage where every part of the fruit or vegetable is used in one of the other ways. Vegetable peels and stems that we usually discard can also be re-used! These are an excellent source of vital nutrients such as Vitamins A, C, E, antioxidants, flavonoids, etc. Next time, don't throw them in the trash but consider these amazing ways to utilize them.
Ways To Use Onion and Garlic Skins
The skin of onion and garlic contains phenylpropanoid antioxidants which are removed as you peel them. These antioxidants are extremely beneficial for overall health where it not only slows down aging but also lowers cholesterol, boosts immunity and secure cardiovascular health. Instead of throwing away the skins, use them in the following ways:
Make delicious rice
Along with onion and garlic, cook their skin with rice. This would increase the nutritional value of the rice as these peels contain an equal amount of vitamins & nutrients. In case you don't want to eat the skin, just add these skin while cooking the rice and remove them later. This would give flavor to your rice.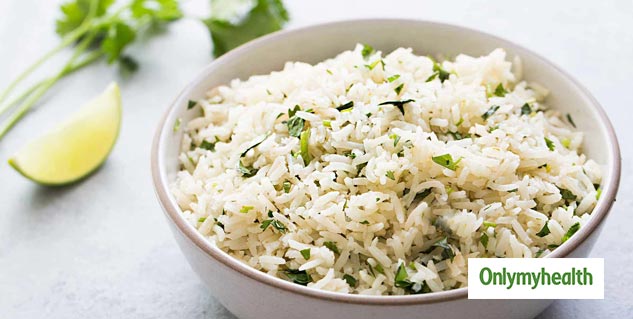 Add to soups
Add these peels to your stews, soups and broth to get extra nutrition. Cook them and you can strain them later. This way, the nutrients in the skins won't be wasted.
Use as a flavoring agent
Roast onion and garlic skins and grind them. You can use this powder as a flavoring agent in your dishes. This will give a mild flavor to your dish.
Also Read: Some Hidden Benefits of Onion That We Bet You Don't Know
Skins for muscle cramps
Did you know that onion skin is an effective remedy for muscle pain? In a pan, add one cup of water and onion peel. Bring it to a boil. Strain the water and drink it. It will relieve your muscle cramps instantly. It is also proven to prevent colorectal cancer.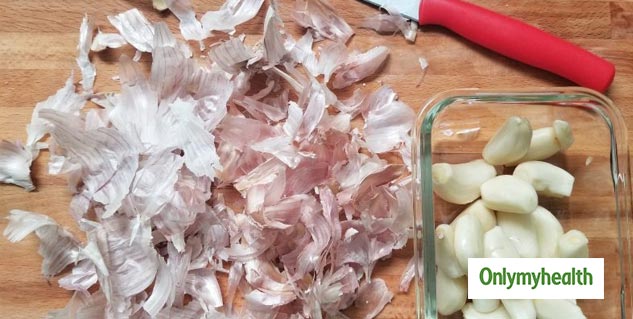 Onion skin for hair
Onion skin is a natural hair dye where it can not only enhance the natural color of your hair but also brings its lost shine. Just boil some onion skin in 4-5 cups of water. Use this water to wash your hair after shampoo.
Get better sleep
Onion skin tea is great for those who face trouble while falling asleep. Make a tea using onion skin and drink it before going to bed. It will relax your mind and help you to get a peaceful sleep.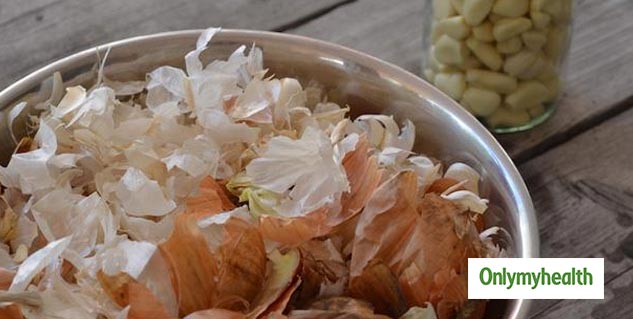 Roast garlic skin
Roast garlic with its skin as it will keep the garlic soft and prevent the loss of nutrients. Garlic offers some amazing health benefits.
Treat itchiness
The anti-fungal properties of garlic and onion make them great to treat itchy skin issues like athlete's foot. Soak your feet in onion water for about 15-20 minutes to get relief.
Also Read: Add Onions to your Diet to Slash Type-2 Diabetes Risk
Freeze to use later
While it is not easy to use them the very moment, you can store them for later use. Put them in an airtight plastic bag and keep it in the refrigerator.
Read More on Home Remedies