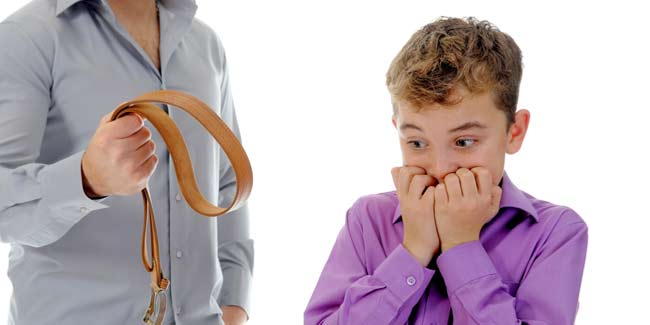 Deciding on a punishment is often a difficult task for parents; the key is to use a variety of disciplinary techniques that make children understand the acceptable and unacceptable behaviours.
Disciplining children is one of the most challenging aspects of parenting. Parents need to ensure that there is a balance between severity and compassion. According to a study at the American Psychoanalytic Association, physical punishment is ineffective and harmful to children. Is physical punishment always wrong or can it be rightly used in certain circumstances?
What does the research say about physical punishment?

A study at the University of Konstanz suggests that parents aim to educate children through corporal punishment, but instead of learning good social behaviours, the beatings often have the opposite effect.

A research at the University of Otago, New Zealand has linked physical punishment to increased antisocial behaviour, lower intellectual achievement and diminished moral internalisation. A study at the Department of Community Health Sciences at the University of Manitoba, Canada suggests that individuals who are physically punished have an increased likelihood of having mental health disorders.
Alternative Ways to Discipline Children

There are many ways to encourage your child to have good behaviour. The American Academy of Pediatrics recommends punishing children in one of two ways - time outs, which work well with younger children, and taking away privileges, which can work with children of all ages.

Reward and reward reductions – If a child's behaviour is good, you reward them. On the other hand, for an exhibit of undesirable behaviour, you have reward reductions. Some ways of reward reductions do not communicate with the kid, boycott something that they love doing and removing a privilege that the child enjoys. Parents can write down the rules of the house with the punishment if those rules are breached.

Take away Gaming/TV time – This way to discipline works well for those who place a lot of importance on the time that they spend with friends, on television, on video games. Take away their Gaming/TV time and your kid won't repeat it again.
The bottom line



Deciding on a punishment is often a difficult task for parents; the key is to use a variety of disciplinary techniques and approaches. Physical punishment not always wrong, when used in right manner.

As a parent, you need to make your kid understand and make out between the acceptable and unacceptable behaviours. You want them to take the responsibility for unacceptable behaviour and ensure that they don't repeat it again.
Read more articles on Parenting.