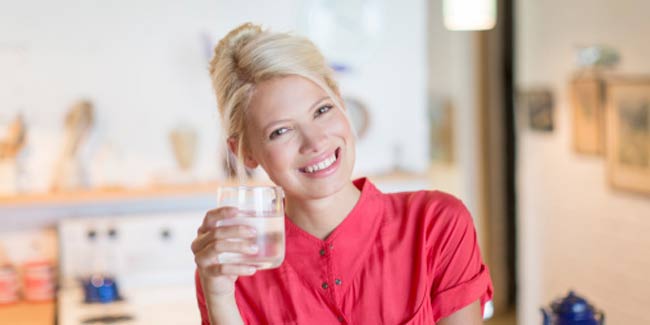 Water is often touted for its skin benefits. Learn scientific facts here about what water can (and can't) do for your complexion.
Celebrities swear by drinking water—they seem to all claim it's the secret behind their supple, glowing, always camera-ready skin. While hydrating for better skin does make sense—your skin is 64 percent water, after all—there's very little research out there to back up water as a skin treatment or declare it a myth.
What Science Says
One Clinics in Dermatology review found only one study that had examined the effects of long-term water intake on skin health. The study, published in 2007 in the International Journal of Cosmetic Science, found that drinking 2.25 litres (9.5 cups) of water every day for four weeks altered skin density and thickness, but the exact results were contradictory. In terms of immediate results, one University of Missouri-Columbia study showed that drinking 500 millilitres of water (about two cups) increased blood flow to the skin. No word on what that means for skin health or appearance, though.




Still, if your skin looks better, what does it matter if research hasn't yet confirmed the benefit?
How Water Affects Your Skin
Without adequate water intake, skin appears duller, and wrinkles and pores more prominent. That may be because water plumps up the skin, causing wrinkles and pores to, more or less, get filled in. What's more, a variety of structures in the skin that support collagen require water to work effectively. Bonus: When skin is hydrated, plump, and elastic, it's less likely to crack and let in external particles that can cause irritations and blemishes.

We know that small changes in diet can affect the type of oil and sebum that your skin makes, which we know, in turn, can be associated with an increase in acne formation. Dehydration may work the same way to trigger these changes in the oil glands in the skin.




Water may also fend off breakouts by decreasing the concentration of oil on your skin. It is critical to have a stable balance of water to oil on the surface of skin. If the skin is too heavily covered in oil relative to water, this can lead to clogged pores with acne breakouts and blemishes.

That's why it is recommended to give your skin a steady flow of water: Every day, aim for eight to 10 eight-ounce servings, and spread them out throughout the day as opposed to guzzling them all at once. Your body can only absorb so much water each hour. After that, you're just going to pee it out before it ever makes its way through your intestines, kidneys, circulation, and to your skin. Bottled or tap, it doesn't matter—granted your city has decent water.

Images: Getty

Read more articles on Skin Care.