With more people spending time sitting in their chairs rather than exploring the outdoors or going out for small walks; the rate at which we gain weight is bound to increase. A recent study by the American Journal on Public Health suggests,"The probability of attaining normal weight or maintaining weight loss is low."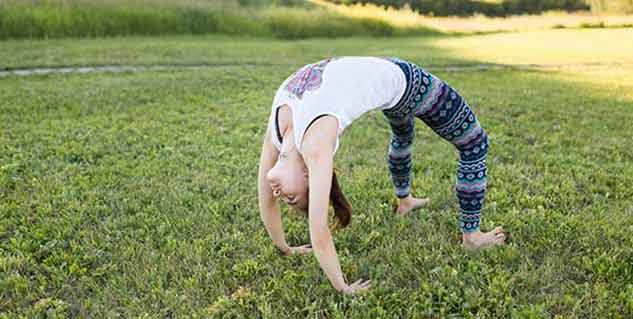 This could be due to a lot of factors apart from a sedentary lifestyle, increased fondness for junk food with high-calorie content and decreased exercise. Many experts have suggested that a simple workout routine of 30 minutes thrice a week or walking 5000 steps daily can help people stay healthy; however, with increased pollution it also means that going outside can do more harm than good. That is where the centuries old powerhouse called 'Yoga' comes into the picture.
Yoga is more than a form of exercise; it's a way of life, and it has been seen that people who regularly do yoga have increased resistance to diseases and it has also been observed that it can even help cancer patients. According to a study, which was led by Janice Kiecolt-Glaser, professor of psychiatry and psychology at Ohio State University, and published in the Journal of Clinical Oncology, researchers looked at 200 breast cancer survivors who had not practiced yoga before. Half the group continued to ignore yoga, while the other half received twice-weekly, 90-minute classes for 12 weeks, with take-home DVDs and encouragement to practice at home. The group that had practiced yoga reported less fatigue and higher levels of vitality three months after treatment had ended.
As you can see, Yoga can help you achieve a lot more than just shedding those extra pounds. However, to stay true to the essence of the topic, let's look at some yoga exercises that can help you lose weight and can be done by just about anyone. But if you are looking for more professional yoga training, then services like UrbanClap can help you find yoga classes where you can expect to undergo more rigorous exercises and a much fuller and complete yoga experience.
What you need: A yoga mat or carpeted space
How to do it: Follow this routine at least 3 times a week, holding each move 1 time for 3 to 5 deep breaths, unless otherwise noted. Start with the Main Move for each exercise. If it's too difficult, do the Make It Easier variation. For faster results, hold each pose for 5 to 8 breaths and increase repetitions.
Setu bandh
Lie down on your back and bend your knees in such a way that your feet rest on the floor. Make sure that the distance between your feet & buttocks should be the same as your hands and try lifting your body in the upward direction. Try doing this 5-10 times & then release.
Shalbasana
Start by Lying on your belly with your hands resting below your thighs while the forehead and chin are resting on the floor. Next up, try to raise your left leg up to 10 inches, while keeping your leg straight, making sure that you do not bend your knees. After that, try doing the same with your right leg too and finally, do this with both your legs.
Chakki chalanasana
This exercise is very powerful for reducing belly fat. For this, you have to sit in a comfortable position & spread your legs straight in front of you where both of your legs are touching each other. However, make sure that you do not bend your knees. After that join your hands & move it in circular motion over your legs. Repeat the motion 10 times in clockwise position & 10 times in anti-clockwise position and then release slowly.
Naukachalanasana
Sit down in a straight yet comfortable position and spread your legs straight in front of you ensuring your legs remain joined to each other. Again, do not bend your knees and place your hands besides your body. Now try to move your hands forward & backward. Also, move your body in the same manner as you move your hands. They should move as if you are riding a boat. Do it 10 times in clockwise position and 10 times in anti-clockwise position and then release slowly.
Dhanurasana
Commonly known as the Bow pose. All you have to do is lie down on the floor with your belly touching the ground and keep your hands besides your chest. Next, take a deep breath and lift your legs & thighs up. While at the same time, you have to try to catch your legs with your hands. It is advised to remain in this position for 30 seconds & then slowly release.
Losing weight with yoga is relatively easier compared to gymming and running since it doesn't require people to have pre-determined levels of endurance. Moreover, it can be done within the relative confines of your home and doesn't require a complicated setup or any other forms of elaborate arrangements. And the best part, everyone can be a part of it, irrespective of how young or old they are, making it a family activity that all can indulge in and move towards a healthier and happier lifestyle.
Image: Shutterstock