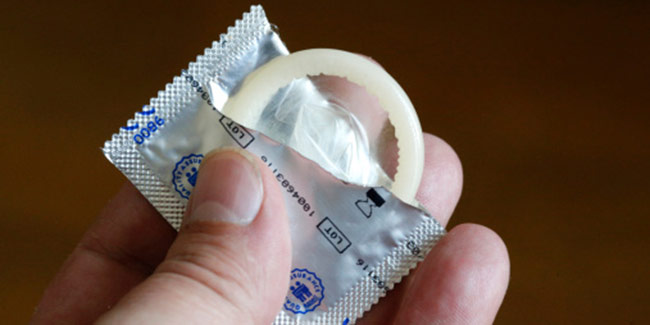 Condoms are a reliable contraception method and just like anything else, the goods are accompanied with a few downfalls. Take a look at how using a condom could be disadvantageous.
Do you have a question on reliability of the most widely used method of contraception, 'Condom'? Reliability depends entirely on the way these are used. Condoms do have disadvantages, but most individuals overcome condom disadvantages with practice or by switching on to a different type or brand.
Disadvantages of Using a Condom
Several men complain that they cannot keep an erection after putting on a condom. Such kind of discomfort is usually experienced normal-thickness condoms. Thinner condoms should be tried, which also provide same protection.
Putting on condom is considered a spoilsport, as mood gets ruined and erection is not the same. It breaks the sequence of sexual activity events by interrupting foreplay and sex.
Male condoms can slip off or break if used incorrectly.
Allergy to latex is another inroad against usage of a condom. People sensitive to the chemicals in latex condoms must use condoms made of polyurethane. Moreover, oil-based lubricants (hypoallergenic condoms), such as body oils or lotions, should never be used with latex condoms as oil can dissolve the latex within minutes, and causing damage to a condom.
When using a female condom, you have to be extra careful. Ensure that penetration is inside a condom, not down the sides between the condom and vagina.
Condoms increase friction, and sometimes responsible for too much friction. Too much friction makes it difficult to penetrate comfortably.
[Read: Things you need to know about female condoms]
Switching between brands or types offer different sensations. If you do it more often, a condom may become excuse of not having a pleasurable sexual activity.
A condom may promote safe sex and secure you against sexually transmitted diseases (STD's) and unwanted pregnancy, but its single use is a disadvantage. Remember that each condom should only be used once.
Men with erectile dysfunction disorder may have a difficult time while putting on a condom. Interruption of sexual act makes it difficult to sustain the erection.
[Read: Female Condom Vs Male Condom.]
Condoms available in different sizes (both length and width) may be confusing for some. If you've put on a wrong size, it may slip off during sex.
Women should be careful with condoms, as their sharp fingernails can break or tear it.
Accidental tear is another possibility when opening the wrapper.
Sensitivity to the spermicide that lubricates the condom is another concern related to condom use. If you experience any rash or irritation after intercourse, try using a condom without nonoxynol-9 or nonoxynol-11 spermicide.

Condoms are a reliable contraception medium, but should be used correctly.
Image: Getty

Read more on Contraception