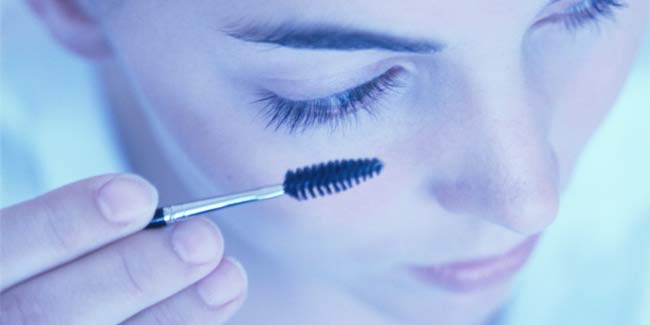 One of the easiest ways to draw attention to your eyes and create fun, flirty looks is by adding mascara. It makes lashes darker and adds length and thickness.
A very simple but effective way to dramatize eyes and make them look bigger and more intense is the use of mascara.There are many different kinds of mascara available in the markets today, such as lengthening, thickening, coloured, conditioning, long-wearing, waterproof etc. Each kind will enhance the look of your eyes in adifferent way. Read on for these simple steps to apply mascara like a professional makeup artist:
Mascara should be applied after all other eye makeup.
It is a good idea to curl your lashes using an eyelash curler prior to applying mascara. For best results, curl once at the base, once in the middle and once more at the tips of your lashes.
Apply a little powder over the lashes, both upper and lower, before applying mascara. This will make the lashes look extra thick.
Remove the wand from your mascara tube / bottle at one go. Do not use a pumping action as this will allow air to enter the tube, causing themascara to dry up. It may also lead to bacteria entering and infecting the eye.
Holding the wand parallel to your lids, start at the base of your upper lashes, and slowly move upwards, rolling the wand gently till the very tip.
Let the first coat dry, before applying a second coat in the same manner.
For the lower lashes, use a lesser quantity on your brush / wand, and starting from the point where your lower lashes meet the rim of the lower eyelid, move gently downwards. The lower lashes are a little tricky as there is a good chance of smearing some mascaraon your skin in the process, so it always helps to keep a tissue handy and to be very gentle and careful. In fact you could put a tissue under your lashes before applying mascara to be on the safe side.
To finish, use an eyelash comb to separate the lashes. If you feel there is excess mascara, blot with tissue.
There are more different ways to apply mascara:
Try this method to make your eyelashes look longer: Open your eyes wide, and using the end of your wand / brush, touch only the tip of your upper lashes with mascara. Ensure that all the lashes, including the ones at the outer corner are touched.Let dry. If you see any clumps on the tips, just comb through with an eyelash comb. Next, apply mascara over your entire lash as you normally would. The extra bulk on your tips will give your eyes more 'oomph' and make your eyes 'pop'.
Load the mascara brush and blot excess on a tissue: Close one eye and hold it taut at the outer corner, just as you would for applying eyeliner. Brush the lashes downward, then brush up. Holding the brush straight, wiggle it back and forth so that all the lashes are coated, and then brush down and up again. Make sure you cover all the lashes from outer to inner corner. Keep your eyes closed till mascara is dry and repeat with the other eye. Comb the lashes downward, then upward with eyelash comb, to separate the lashes. This method will coat both upper and lower lashes at one go.
Read more articles on Eye make-up