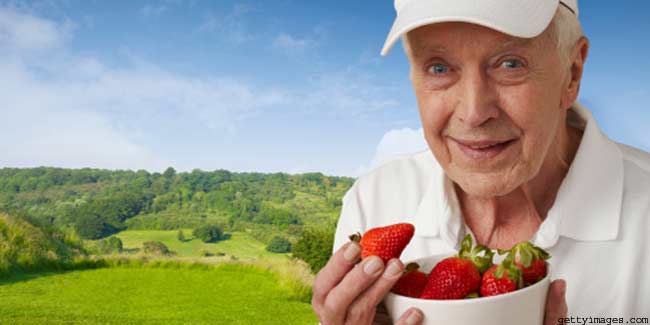 Elderly women are in more need for the right nutrients like protein, calcium, carbohydrates, etc to balance their increasing inability to work efficiently.
The National Policy and Resource Center on Nutrition and Aging has established general nutrition recommendations for all age groups in the form of Dietary Reference Intakes. This is because as one gets older, his/her earlier nutrition, genetics and fitness choices tend to catch up later and determine the state of health. While little has been talked about the dietary requirements of elderly women, here is some insight.
Total Calories

The general calorie requirement for elderly women over the age of 51 ranges between 1,900 and 2000 every day. For women, who are aged above 70 or more, the general calorie requirement lies between 1,800 and 1,900 calories. The metabolism, which is the rate at which one burns calories, slows down as one gets older. If you do not engage in physical activity as you age, you will have to make sure that you consume only fewer calories to maintain a healthy weight later in life.
You may also like reading: Tips to take care of an Elderly Woman
Proteins

To be able to maintain the health of the skin, glands, muscles and body organs, older women must take adequate protein in their diet. Once the body cells are dead, enough protein is needed to replace them with new cells. The general protein requirement for women over 50 is 46 grams. Some of the sources of protein include lean meats, fish, poultry, eggs, low-fat dairy products, legumes, nuts, etc.
Fibre

A diet that is high in fibre as well as fluids is important for older women as it helps in preventing constipation and may even protect them against chronic disease. The general fibre requirement for women over 50 is 21g of fibre every day. Some high-fibre foods include whole-grain cereals, breads, fresh fruits and vegetables, legumes and commercially prepared foods, such as yoghurts that contain added dietary fibre.
Vitamins

Vitamin B12 and D are of primary concern to elder women because as they age, they are less efficient or able to utilise the nutrients efficiently. Vitamin B12 helps women maintain the nervous and immune system. Food sources that are good in vitamin B12 include lean meats, fortified cereals, seafood and dairy products.

Vitamin D helps a great deal in facilitating the absorption of calcium from diet, thereby reducing inflammation and maintaining immune system and neurological functions.

You may also like reading: Vitamin D can help Elderly Women Survive
Minerals

A high-calcium diet helps in protecting against the bone-thinning disease called osteoporosis. The general calcium requirement for older women aged over 50 is 1200 mg. Older women, who do not consume enough dairy products are given calcium supplements.

It is always better to be active during adulthood to make life easier once one gets old enough to not be able to exercise.
Read more articles on Diet Basics.