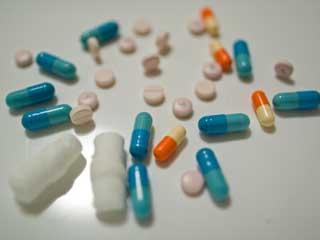 Metformin is a common drug prescribed to diabetics when they are detected to have the disease. Recent research has shown that the drug can benefit non diabetics as well with its has anti-cancer and anti-cardiovascular properties.
Metformin is an oral anti-diabetic first-line drug of choice prescribed for the treatment of type 2 diabetes. It is particularly dictated to people who are overweight and obese and those with normal kidney function. And now a large-scale study has found that metformin can help non-diabetic patient live longer.

The Cardiff University study of 180, 000 people has shown that the prescribed diabetic drug has anti-cancer and anti-cardiovascular disease properties which can extend its health benefits to non-diabetics as well.

"What we found was illuminating. Patients treated with metformin had a small but statistically significant improvement in survival compared with non-diabetics," claimed Craig Currie, professor at Cardiff University's school of medicine.




"Those treated with another common diabetes drug called sulphonylurea had a consistently reduced survival compared with non-diabetic patients," he said, adding that this was true even without any clever statistical manipulation.

This, however, does not mean that people with type 2 diabetes who take metformin should relax. When their disease progresses, diabetes will be typically be taken off metformin and switched to more aggressive treatment. Therefore, a long life expectancy is not guaranteed. The best way to avoid the condition altogether is by keeping moderately lean and taking some regular light exercise.

Metformin is an approved and recommended drug by the American Diabetes Association and the European Association and the National Institute for Health and Care Excellence (NICE) and apart from being used as a treatment option for diabetes, it is also prescribed to patients with polycystic ovary syndrome. Scientists have also investigated it for other diseases where insulin resistance may be an important factor.

Currie said that in the next phase of the research he and his team will investigate how patients who are given metformin as a first line therapy can best be treated thereafter to bring their life expectancy closer in line with the national average.

This study, which indicated that metformin could offer prognostic and prophylactic benefits to non-diabetic people was published in a leading journal Diabetes.

Image Courtesy: Getty

Read more Health News.