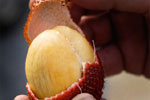 The encephalitis disease has claimed lives of 102 children already and it is likely that this may be caused because of the litchi virus.
The shachi litchi of Bihar, which is famous for its unique taste and flavour has taken the lives of at least 70 children in the Muzaffarpur district of the state. Experts had collected the sample of the litchis to identify the kind of virus that is present in it. The symptoms of the diseases are acute encephalitis syndrome.
The virus strain of the disease continues to be a mystery even today. It has also lead to deaths in the state of West Bengal this year.

Prabhat Kumar Sinha, who heads the six-member team from the Rajendra Memorial Research Institute of Medical Sciences, had collected samples of the litchi from orchards in the disease-affected areas for toxicology study after a lot of hue and cry over the rising number of children's deaths due to the disease.

Few scientists have even attributed the disease to litchis in the Muzaffarpur district. However, Sinha maintained that it is an area that requires in-depth research. The outbreak of the litchi virus has been causing sudden deaths as a result of AES in West Bengal and Bihar and this has also hit the sales of the summer fruit in a lot of regions, even those that are outside of these regions.

Article source: zeenews
Image source: Getty
Read more Health News.