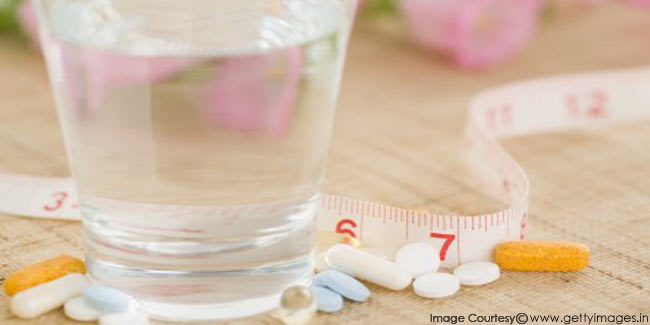 Multivitamins & weight gain: multivitamins do not cause weight gain, but can render benefits during weight loss regimen.
'Multivitamins help you gain weight' is a misconceived notion. On the contrary, multivitamins help you lose weight. A multivitamin contains vitamins A, B, C, D and E altogether. Multivitamins are beneficial in a weight loss regimen as these nourish the body and catalyse weight loss. Furthermore, multivitamins also fulfil the nutritional requirement for calcium, magnesium, copper and iron.
Weight Gain Vitamins

Vitamin A and vitamin D are weight gain vitamins the intake of which can help individuals put on extra muscle mass, but, an adjudjing multivitamins as a contributor of weight gain isn't right. In a nutshell, weight gain is a consequence of increased caloric intake and more physical activity.
Multivitamins during Pregnancy

Multivitamins may contribute to healthy weight gain during pregnancy, which is needful in pregnancy condition. Daily multivitamin supplementation during the second and third trimesters of pregnancy results in improved prenatal weight gain. Lack of multivitamin consumption during pregnancy is also identified as a reason for low birth weight of a baby.
Nutrition with Multivitamins

If you desire to lose weight, multivitamins will be highly beneficial. Besides, multivitamins render several health benefits such as extra insurance of providing the essential vitamins and minerals. Furthermore, multivitamins together with healthy meal promote metabolic process. With improvement in metabolic activities, the body can burn fat at a faster rate. Vitamin B-2 along with other B-vitamins ensures streamlined thyroid function. Vitamin C together with other B-vitamins eases the conversion of glucose into energy.

Apart from inducing weight loss, multivitamins also help to moderate energy throughout the body. These remove waste from the cells to ensure that bodily functions are not interrupted. Apart from consuming multivitamins, it is necessary to stay hydrated so that the vitamins can take their full effect. Water works as a medium that ensures flow of nutrients in cells by removing toxins out through the kidneys along with other waste.
Reasons for Weight Gain

If you have experienced unwanted weight gain, don't blame it on multivitamins. The primary reason behind weight gain is eating more calories than you are burning. In other words, caloric intake and physical activity will impact your weight. Another way to gain weight is with the usage of psychotropic drugs, though they may accompany several negative effects. It is therefore, advised that medical drugs be used for weight gain under the supervision of a doctor.