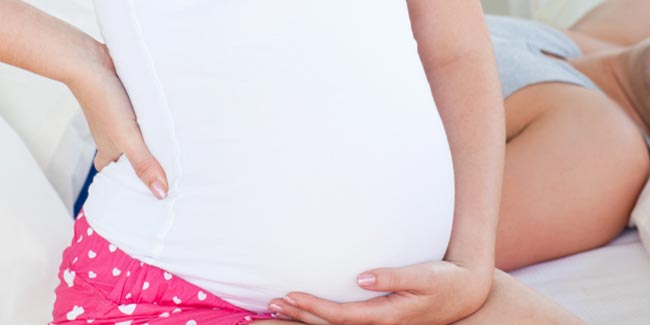 Common complications during pregnancy include back pain, constipation, and haemorrhoids. They are routine complications during pregnancy but if they are intense then immediate attention is needed.
While it is true that pregnancy is the most blessed time for a woman, it is also ridden with problems and complications. Know about these problems before you face them.
Pregnancy problems and symptoms are often referred to as complications during pregnancy. Pregnancy complications can vary in intensity. Some of them are routine pregnancy symptoms while the other complications can even lead to fatal results.
Common Complications during Pregnancy
Back pain: Women mostly experience back pain during the third trimester of pregnancy .i.e. when their body's centre of gravity is shifted due to the growing uterus.
Constipation: In pregnancy constipation results from abnormal intestinal contractions. The contraction process is changed so that the expectant mother can easily absorb the much needed nutrients. As the side-effect of this process, faeces become extremely dry and difficult to pass.
Contractions: They are also known as Braxton Hicks contractions. Some pregnant women experience ocassional contractions while others experience them the entire day.
Dehydration: Expanded intravascular space during pregnancy can lead to dehydration. To avoid this complication in pregnancy it is important to increase fluid intake.
Edema: Accumulated fluids in body tissues can lead to a condition called Edema. In this condition, the inferior vena cava and pelvic veins are compressed.
Gastroesophageal Reflux Disease (GERD): Also known as heart burn, it is more problematic when it happens during pregnancy. It is a common pregnancy problem faced by women in early pregnancy.
Haemorrhoids: Pregnancy makes you prone to haemorrhoids (condition of painful swollen veins). This is because your growing uterus puts more pressure on blood veins.
Maternal Complications during Pregnancy
Pelvic girdle pain (PGP): Pelvic girdle pain is one sided pain that can shoot-up to the buttocks. It is caused due to a hormone called relaxin and affects the ligaments of the abdomen and pelvis and makes them soft.
Severe Hypertensive state: Severe hypertensive disorders during pregnancy are classified into four groups namely chronic hypertension, preeclampsia, eclampsia, and gestational hypertension (pregnancy induced hypertention).
Foetal Complications during Pregnancy
Ectopic pregnancy: In ectopic pregnancy, the fertilised egg gets implanted outside the uterus. It is difficult to diagnose as its symptoms are similar to that of a normal pregnancy. Missed periods, breast tenderness, nausea, vomiting, vaginal spotting, dizziness, lower back pain and frequent urination are some of its symptoms.
Placental abruption: it is a serious complication of pregnancy wherein, the placenta either partially or completely gets separated from the uterus. Placental abruption leads to premature labour. Indicative symptoms of placental abruption include vaginal bleeding, cramping and frequent contraction. Besides this, you will not feel the baby's movements as they were before.

Complications during pregnancy could be a natural occurance, but you can definitely get it treated with systematic testing and check ups.

Read more articles on Problems during Pregnancy