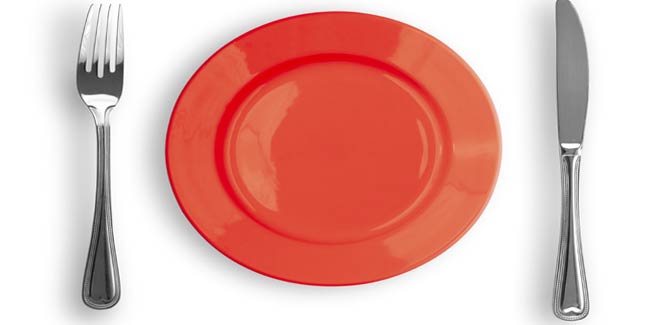 A recent study shows how the colour red can help people to consume less, and so now you can avert weight gain by eating on red plates.
This holiday season you can avoid all indulgences when it comes to cookies, candy and other favourite foods and sweets just by using red dishes! According to a new study people tend to eat less when food gets presented in red dishes.

In a previous study scientists had found that diners at a pasta buffet had heaped marinara on their plate if they used white ones, but then took smaller helpings when their plates were red in colour. They again did the opposite when they had white sauce for their pasta. This led the scientists to believe that the key to eating less might be the sharp colour contrast.

However, a new study published in the journal Appetite indicates that it is not contrast; in fact it is just one specific colour. The one colour that causes people to cut down on their consumption is the colour red. The research tested how much food or hand cream people used when the product was placed on a red, white or blue plate.

Study author Nicola Bruno, cognitive psychology researcher at the University of Parma, Italy said, "We wanted to find out if the effect was limited to eating or generalized to other types of consumption. The cream was a convenient way to evaluate another sensory system -- touch, rather than taste."

The authors had also measured the differences in the colour intensity and contrasts of foods, cream and plates. With the data they tested whether the differences in people's consumption correlated with differences in colour contrast.

It was found that people ate less popcorn and chocolate when they were being served the products on red plates compared to the blue or white plates.


Source: edition.cnn.com

Read more on Health News.