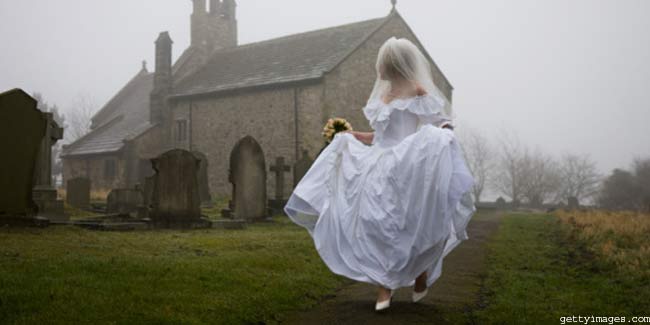 Getting cold feet before wedding is common amongst brides-to-be, but if the feeling is mild, it can be eased and if it is severe, a doctor's help may be required.
When you are in love, the smell of cigarettes in his breath, the disorganized expenditure and several forgotten to-do-lists will seem too small an issue for relationship turbulence, initially. But, as you get closer to being emotionally knot with the man who you are going to spend your entire life with, several doubts crop up unintentionally; Is he the right one? Will he cheat on me? Will he be a loving father to our child?

Most times, being cold feet is referred to as an insignificant case of pre-wedding jitters and most women go through this a day or two before they are due to tie the knot. If you are also going to be the attention of lots of hopeful faces for a day and are clutching your fists with fear of impending consequences of the oh-so-massive wedding ceremony, here are few tips that will help you avoid it.
Warm Up
A prominent reason why women get cold feet before their wedding is because of the society they live in. And, the number of women who get cold feet is about to climb to the summit with each passing year. It is, in such a situation, important for you to understand that even though cold feet is a symptom of the time in which one lives, there is nothing that can be done about it. The first thing to do is to change within. There are a few aspects of marriage that will help you fix this chill.
Avoid being Easily Influenced
The society does vibrate its thoughts and beliefs all the way into an inhabitant's life, but that does not mean that you must imbibe the norms established by it and carbon copy the beliefs in your life. The decision about marriage is about you and her/him. It would not be right for someone to influence matters that concern the both of you.
Be Pragmatic
Make sure that you and your would-be-spouse is on the same page. Yes, being married to the love of your life is romantic, especially when you have thousands of days to live with your partner watching over you. But, you must give a thought to the different aspects of marriage that are equally essential, namely, money, children and religion.
Understand that a Spouse is not Interchangeable
Whether you are a male or a female, the promises that you make at the altar are to be followed and not just said to attract the guests. Unlike romantic relationships, post marriage you will not have the option to interchange your partner with a hot model. It is important for you to cherish the very institution that marriage is and take charge of protecting it by not trifling with it. Only if you live by this rule will your partner also follow.
Support each other through Thick and Thin
Marriage is indeed a "leap" in a relationship and fears concerning the future are natural. Tide over the fears by sharing with your partner and supporting each other all the way.

A day before your wedding is not the time for you to judge whether it is really appropriate for you to get married or not, but if you just cannot seem to stop trepidating, it may be a more serious problem and will need medical attention.
Read more articles on Relationship Advice.