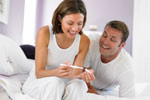 A woman who wants to perform clear blue pregnancy test at home, needs to follow clear blue pregnancy test instructions properly to get the correct result.
Clear Blue Pregnancy Test is a home pregnancy test. In this test pregnancy is detected by observing positive or negative sign based on determining the presence of pregnancy hormone in the urine of a woman.

It consists of a test stick which has an optical reader display window that shows the positive and negative symbol. This test has been proved 99 percent effective in detecting pregnancy. Clear Blue Pregnancy Test can be taken in a few steps.
Step 1

Generally this test is performed in morning time as the pregnancy hormone HCG (Human Chorionic Gonadotropin) has densest presence in urine during this time. First step is to remove the cap from the absorbent tip. Now hold the absorbent tip in the downward direction and dip it in your urine stream for around five seconds. If you found it difficult, collect the urine in a container and dip the absorbent tip into it. Make sure the container is clean and dry.
Step 2

As you dip the absorbent tip in the urine the display window starts showing signs. The absorbent tip turns pink as the tip absorbs the urine. An hourglass symbol starts flashing on the display window. This shows that test is working and analysis is taking place.
Step 3

It takes some time to analyse the results. So you have to wait for two minutes before reading the test. You have to wait until the hourglass symbol stops flashing. As soon as hourglass symbol stops flashing a blue line appears in the control window. Now you can read the results.
Step 4

If the display window shows a vertical line and a horizontal line crossing to form a plus sign (+), means the test is positive and you are pregnant. If a single horizontal line appears, means the test is negative and you are not pregnant. The result will be counted as positive even if the lines making the plus sign are not of the same colour. It depicts result as words as pregnant for positive test or not pregnant for negative result.

Some of the things you should keep in mind while performing clear blue pregnancy test:
Try to take the test during early morning, though it can be done anytime. Taking test early in the morning gives 99 percent accuracy.
If the display window appears blank after 10 minutes, the test is unsuccessful. The test is considered incomplete if the hourglass symbol does not appear. The result of the test remains visible for about 24 hours.
Read more articles on Pregnancy Test.