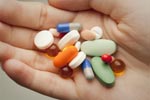 Existing drugs can be used to treat certain cancers, says a research published in the journal Molecular Cancer Therapeutics.
A research from Australia says that a class of drugs that are currently used to treat blood disorder can be used to treat colorectal as well as stomach cancer. These drugs that are called JAK inhibitors are currently used to treat cancer-like condition referred to as myelofibrosis. These drugs are going through clinical trials to be used as treatment for leukaemia, lupus, lymphoma, rheumatoid arthritis and other medical conditions.
The team working on the study said that the JAK inhibitors reduce growth of inflammation-associated stomach as well as colorectal cancer. The team has been focussing on connecting a link between inflammation as well as cancers of the digestive tract for a while.

Recently, the team has had some luck in unravelling the molecular signalling that happens in inflamed tissues such as the one that occurs in an inflammatory bowel disease or stomach ulcer and how this complex connection may contribute to the development of cancer.

The research helped the scientists to closely understand the molecules that help the cancer cells to grow and survive and also to identify the ones that can be killed with the help of anti-cancer drugs.

The research has been published in the journal Molecular Cancer Therapeutics.

image source: gettyimages.in

news source: medicalnewstoday

Read more Health News.