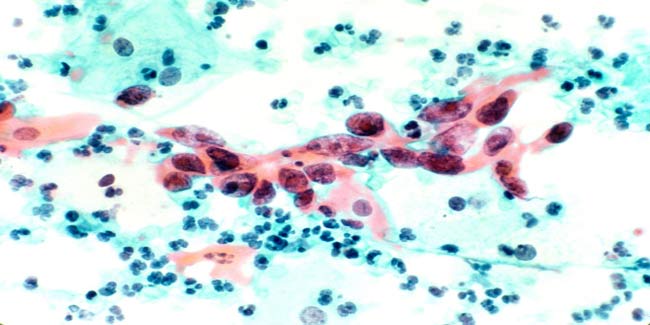 Many risk factors related to cervical cancers have been recognised but HPV still remains the most strongly linked as the cause of cervical cancer.
Human papillomavirus (HPV) is the most common cause of cervical cancer. Many risk factors related to cervical cancers have been recognised but HPV still remains the most strongly linked as the cause of cervical cancer.
HPV or Human papillomavirus is the most prominent cause of the cancer but all the strains of HPV do not cause the disease. From over a hundred strains of the virus, only some are tied to a high risk of cervical. HPV test determines not only the infection, but also whether it is a high risk strain of the virus or not. This test is conducted often in women who are more than 30 years of age. Women are also required to go through regular Pap smear.
Risk Factors



Multiple childbirths
Multiple sexual partners
First sexual intercourse at very young age
Smoking
Use of oral contraceptive pills
Weak immune system

Cervical cancer may not be noticeable early, and that is why women should have check-ups for it regularly. Pap smear is one of the tests as it checks for abnormal cell growth in cervix. It is important that cervical cancer is detected early for increasing the chances of success in treatment.
Weakened immune system



HIV (human immunodeficiency virus), the AIDS virus – There is a difference between HPV and HIV. Women afflicted with HIV are more likely to get cervical cancer compared to those having HIV. This is because HIV suppresses immune system, leading to inadequate response when the virus attacks. Likewise, any women whose immune system is suppressed due to any reason, such as the side effect of taking a drug. Those who are on treatment for an autoimmune disease have an increased risk of cervical cancer.
Chlamydia infection
This is a common kind of bacteria that can infect women's sex organs. It is spread during sex. A woman may not know that she is infected unless she is tested for chlamydia when she gets her pelvic exam. Some studies suggest that women who have a past or current infection are at greater risk for cancer of the cervix. Long-term infection can cause other serious problems, too.
Smoking



Smoking women are twice as likely to suffer from cervical cancer compared to others. The no. of harmful chemicals that are found in cigarettes can easily lead to cervical cancer. This is because these are carried and spread throughout the body, including each and every organ. This is clear by the fact that cervical mucus of some women contains have been found to have by-products of tobacco. Other than its direct adverse effect, smoking also makes the immune system less capable of fighting cervical cancer.
Treatment

When it comes to cervical cancer, treatment options differ widely on the basis of the stage of the cancer. Chemotherapy helps kill the tumour. Surgery is another treatment option for cervical cancer which removes the whole of the tumourous growth from the affected area. The type of surgery that is needed depends on its location and how far the tumour has grown.

Radiation Therapy, which uses high dose of X-rays or implants, can kill cancer cells in the vaginal cavity. This type of treatment is often used in combination with surgery.
Read more articles on Cervical Cancer.