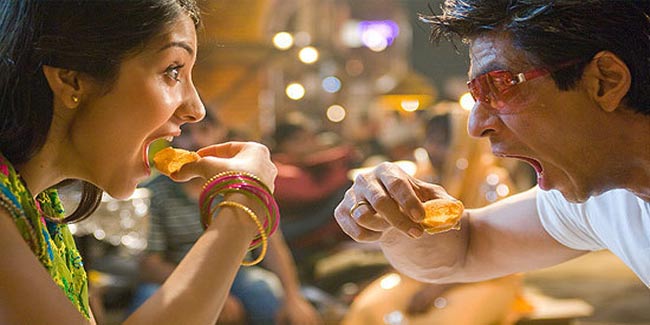 Still whining over the Maggi ban? Breaking news: your street food has shit in it! A study by IHM has found street foods to contain high levels of faecal matter. Do you need any more reasons to give up on such unhygienic street food? Probably not.<
We've always known that street food is unhygienic and the fact hasn't supplied us with enough willpower to resist those deep-fried, crispy brown aloo tikkis, or those mind-blowing flaky, tangy gol gappas and don't even get us started on the fleshy, steaming hot momos and other unhealthy street food. Come out of those food thoughts you are having right now because it is time to think twice before digging into a plate of your favourite but unhygienic street foods.

If you can't get over the Maggi ban due to harmful ingredients like excessive levels of lead and MSG found in it, deal with the fact that your favourite street food is full of shit! A study has found faecal matter in street food items in several West and North Delhi markets. Don't believe us? Wait till you get your first bout of food poisoning.

A the large study conducted by the Institute of Hotel Management, Pusa (IHM) tested samples from popular street food joints of famous markets like Connaught Place, Rajouri Garden main market, Rajendra Place and Subash Nagar in Delhi and found traces of faecal matter in street foods such as golgappas, momos, samosas and burgers. An extremely high volume of E. coli bacteria was also found in such foods.

The Central Pollution Control Board has defined the normal Most Probable Number (MPN) of coliform (a kind of disease-causing bacteria usually found in water or food) to be 50/ 100ml or less. The report found it to be over 2,400 MPN/ 100ml in the tested samples. That's a whopping 48 times higher than the permissible limit! Just imagine the harm these street foods containing high levels of faecal matter can do.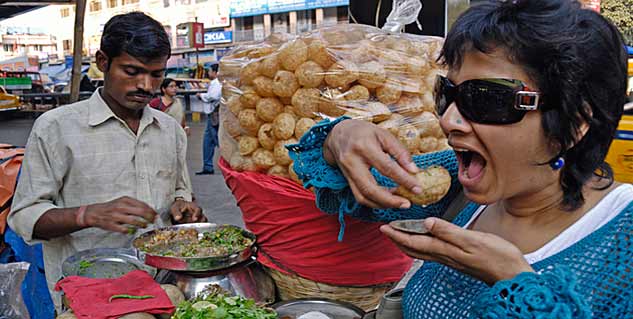 Where does the contamination happen?
The answers are right in front of you. Does the street vendor wash his hands before serving you golgappas? He exchanges money with multiple customers, cooks and serves you food with filthy hands. You don't know if he washed his hands after using the washroom or if any other customer he came in contact with did. Does he always wear gloves while doing his job? That includes pushing pots, pans, buckets, all at the same time. And most of all, do you know the source of the ingredients he is putting into that lip-smacking food—the tangy golgappa water or the fleshy momo stuffing?

If we talk about samosas, unhygienic handling of food can lead to contamination of potatoes, flour and spices. Weather too affects the bacterial and fungal contamination of foods flashed out in the open. During summers and monsoons, disease-causing microorganisms circulate freely in the environment.

Burgers and momos are prepared with raw vegetables, which increase the chance of cross-contamination of various disease-causing bacteria.
How street food can make you sick, very sick!
We have clearly come to know of the harmful Maggi ingredients that were the reason behind its awesome, addictive taste and the same logic applies to other tasty, but unhealthy street foods too. This is not to say that every tasty street food is full of shit, but testing shows us unfavourable results.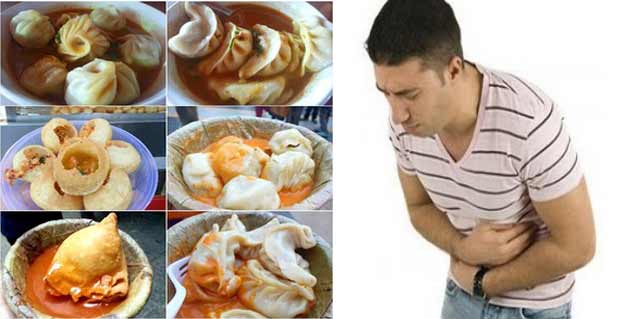 And even if you wish to ignore this latest study, you will be shocked to know that bacterial pathogens are not new to be found in street eateries. Some common ones are: Bacillus cereus (causes vomiting and diarrhoea), Clostridium perfringens (abdominal cramps and diarrhoea), Staphylococcus aureus (vomiting, appetite loss, abdominal cramps and mild fever) and Salmonella species (typhoid, food poisoning, irritation and inflammation in the gastrointestinal tract).

E. coli gets into food through faecal matter and contaminated water could be a source of the latter. The pathogen is intensely capable of causing typhoid and cholera. A positive coliform test in golgappas confirms the presence of shit in your food.
What is the government doing about the shit in our food?
B.P. Mishra, administrative officer with the department of food safety, Delhi government, says they are streamlining street vendors. It has been made mandatory for them to register with the government so that their operating location is known. Training programmes and steps to provide them with safe drinking water are also being implemented.

But, are these steps being executed well? Or are they working at all? Our food has shit in it, so probably not!

Image Sources:
http://2.bp.blogspot.com/-U-hP6XEwczM/T7YIAN1ertI/AAAAAAAAAUo/Ost1IFZrNhk/s1600/golgoppa1.jpg
http://www.storyepic.com/wp-content/uploads/2014/06/Puchka.jpg
http://scontent-b.cdninstagram.com/hphotos-xaf1/t51.2885-15/1742766_322976061246931_483940922_a.jpg
http://www.menscosmo.com/wp-content/uploads/2011/09/How-To-Treat-Diarrhoea-With-Guavas.jpg

Read more articles on Healthy Eating.