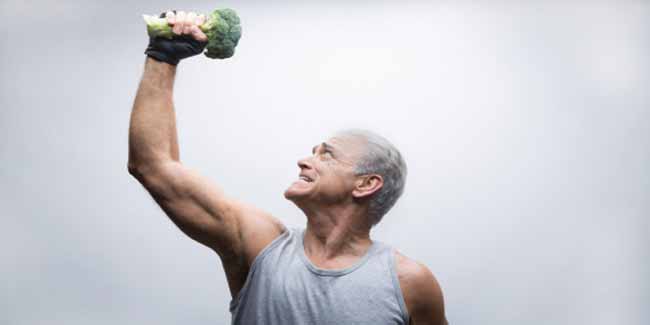 New British research suggests that sulforaphane, a compound found in broccoli and other cruciferous vegetables such as cabbage and Brussels sprouts, could help fight osteoarthritis, the most common form of arthritis.
Broccoli possess extensive health benefits. They are loaded with essential nutrients and also have therapeutic properties. A 2013 British research had found a compound in broccoli that could help prevent or slow the progression of the most common form of arthritis, osteoarthritis.

Osteoarthritis (OA) is a chronic condition in which the material that cushions the joints, called cartilage, breaks down. This causes the bones to rub against each other, causing stiffness, pain and loss of joint movement. It most commonly affects the hands, feet, spine, hips and knees causing pain and stiffness in the affected part.


Hip and Knee Surgery
Osteoarthritis is by far the most common form of arthritis in the UK; around 1 million people consult their doctor for it. The publicly funded health services in England and Wales perform over 140,000 hip and knee replacement operations each year because of the disease.

Compound sulforaphane has been found to slow down the destruction of cartilage in joints in experiments with mice by a University of East Anglia (UEA) research. Your body releases sulphorane when you eat cruciferous vegetables such as Brussels sprouts and cabbage, but particularly broccoli.

Sulphorane has been found to possess anti- cancer and anti-inflammatory properties by previous studies, but this is the first major study to determine its effects on joint health. It established that sulforaphane blocks the enzymes that cause joint destruction by stopping a key molecule known to cause inflammation. The study was published in the journal Arthritis and Rheumatism.
Human Trial
Researchers from the university are now examining their findings on osteoarthritis patients who are due to have knee replacement surgery. If successful, they hope it will lead to funding for a large clinical trial to show the effect of broccoli on osteoarthritis, joint function, and pain.




Lead researcher Professor Ian Clark says, "The results from this study are very promising. We have shown that this works in the three laboratory models we have tried, in cartilage cells, tissue and mice. We now want to show this works in humans. It would be very powerful if we could."
'Super Broccoli'
For the human study, half of the 40 patients enrolled will be given "super broccoli," which will specially be grown to be high in sulforaphane. They will eat it for 2 weeks before their surgery. Once the surgery has taken place, the researchers will look at whether the compound has affected the joint.

"Although surgery is very successful, it is not really an answer," Clark says. "Once you have osteoarthritis, being able to slow its progress and the progression to surgery is really important. Prevention would be preferable, and changes to lifestyle, like diet, may be the only way to do that."

Alan Silman, medical director at Arthritis Research U.K., says in a statement that the study has "promising results." "Until now research has failed to show that food or diet can play any part in reducing the progression of osteoarthritis, so if these findings can be replicated in humans, it would be quite a breakthrough."

Images: Getty

Read more articles on Osteoarthritis Prevention.