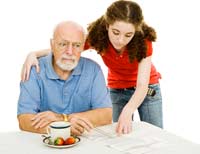 The brain needs that extra boost in order to prevent memory loss related to ageing. The key is to lead a balanced life that boost the brain and stimulates it to prevent memory loss.
So you have tucked the tummy, uplifted the face and gotten rid of those crow's feet. What about the fact that slowly it is looking like you are forgetting things? Is it becoming difficult to remember birthdays, schedules and the grocery list? Well, memory loss is a sign of ageing. People tend to suffer from memory loss as they age because the brain shrinks over time. Fewer nerve cells are created by it and the neural connection become weak.

However, fret not, because a little change in your lifestyle will help you combat memory loss that happens due ageing. We present to you 7 brain boosters that help in preventing memory loss.
Exercise

Enough cannot be said about the benefits of exercise. Exercise keeps us healthy, prevents diseases, cuts down on unnecessary fat and also fights the signs of ageing. Exercise acts as a brain booster by keeping stress and depression at bay. This happens because exercise leads to the release of the 'happy hormones' in the brain. Seniors are advised to continue moderate exercise regimes such as brisk walking to keep heart diseases in check also to improve the quality of sleep. All these benefits automatically affect the brain in a positive manner keeping it active.
Sleep

Your body and brain need adequate rest in order to function. This becomes especially true with age. Sleep refreshes the brain and that betters our cognitive performance. The release of stress hormones and relaxation helps the brain store memory in a better fashion. Also remember, that using over-the-counter medication for sleeping may actually cause more harm than benefit in the long run. Alcohol is another major factor that affects our sleeping pattern, thereby adversely affecting the brain.
Mental exercises

Apart from physical exercise in order to boost memory, with age one should also resort to mental exercises to sharpen your memory. Mental exercises include crossword puzzles, Sudoku, and the increasingly popular video games. Video games stimulate the brain, keeping it active. As you challenge your mind, it tries and performs better and faster, and you get to reap the result of a memory that is literally on its feet!
A healthy lifestyle

Healthy eating is a sure shot brain booster. Food has an impact on our overall well-being. And with age, we should mind what we eat. Experts are of the opinion that eating what they have termed a 'rainbow of fruits and vegetables' boosts brain age. Green leafy veggies, tomatoes, berries, oily fish, and nuts and seeds are some foods that will empower your brain and keep the signs of memory loss at bay. Antioxidants present in these foods will protect the brain from radical cell damage, keeping memory loss away.
Keep your mind active with new memory tricks

There is nothing that can stimulate the brain more than learning new memory tricks. Although experts are of the opinion that age related memory loss is minor is most adults, there is no harm in keeping your brain boosted. Memory tricks can also help you remember. For example associating the name of a person with a place or thing can help you locate that name via association.
Red wine

Various researches have proven that a glass of red wine does wonders for the body. Not only is it good for the heart, it also stimulates the brain. A study conducted in 2007, has found clear links between red wine and memory loss. According to the study, people who consume red wine regularly slow the progression of dementia in their advanced years.
Quit multitasking

We know how difficult it is to come to terms with the fact that one needs to slacken the pace of life with age. Multitasking puts a lot of pressure on the ageing brain and makes it impossible for it to encode certain information and then process it later as memory. Because the brain is not paying attention to one thing, people tend to forget names, addresses or even something as simple as a recipe. With age, multitasking should be avoided so that the brain can store memory.
Read more articles on Health News