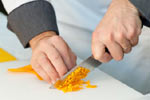 Researchers from University Hospital in Basel, Switzerland warn that your kitchenwares may carry multi-drug resistant bacteria.
A recent study conducted by the researchers at University Hospital in Basel, Switzerland suggested that the hands of the person, who prepares your food and their chopping board, both remain a source of transmission of multi-drug resistant bacteria like E. Coli.
The research was conducted on 298 cutting boards out of which 154 were collected the University Hospital and the remaining 144 were from private households. These boards were used during preparation of various dishes using beef/veal, lamb, fish and were not cleaned after use.
The researchers collected the samples in order to determine the presence of bacteria like Salmonella, E coli and Klebsiella.
In the study, it was found that cutting boards obtained from households had E. Coli on 3.5% of their surfaces. Also, the study found that 50% of hand gloves used in the kitchens was contaminated with E. Coli bacteria.
"The spread of multi-drug resistant bacteria has been associated with the hospital setting, but new findings suggest that transmission of drug-resistant E coli occurs both in hospitals and kitchens," told Andreas Widmer from University Hospital.
The study which was published in the journal Infection Control and Hospital Epidemiology laid stress on hygiene of the hands of food preparers.
Read more on Health News.
Article source: IANS
Image courtesy: Getty Images