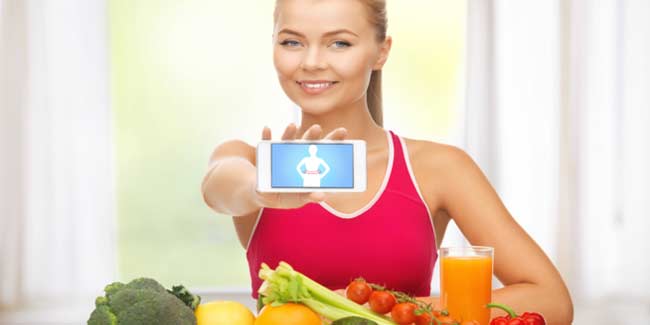 With the 8 best smartphone apps available for weight loss, let's seize this low-cost opportunity to make healthy choices during all of our daily routines.
We always focus our philosophies around losing weight; what could be better than using something that's in our pocket all the time? Yes, as simple as that!

We are all acclimated to our smartphones yet not many of us have discovered the power of Apps. There are some great fitness apps which are free to download and are available on most popular smartphone platforms.

Over the last few years, nutrition, fitness, and weight loss apps for smartphones and tablets have become increasingly available. The best thing- many of them seem to work!

These awesome apps are like having a dietician or personal trainer in your back pocket that instantly connect you to others with similar health goals. They keep you accountable and help you stay motivated.

So, with these 8 best smartphone apps available for weight loss, let's seize this low-cost opportunity to make healthy choices during all of our daily routines.
Lose It!
How about a free app that lets you track calories and your exercise- all in one? Awesome right? You have it with the name of Lose It! It asks you to input your current weight and your goal. Once you do it, it will accurately give you an estimate of how many calories you should eat per day, and how long will it take you to reach your desired weight. It also offers an online support community that joins people with similar fitness goals and encourage each other towards the aim. So, what are you still waiting for? Just download this app and Lose It!


Fooducate
Okay, so this is one app that cuts your research time in half and helps you spot the tricky unhealthy foods. A simple barcode scan of the food item on fooducate will give you a rating of the calorie count per serving, processing techniques and amount of excess sugar in it. Now, this is a must-have app that you must take to grocery shopping to save time and choose health.
Locavore
We all know that we must always choose to eat fresh and timely produced foods instead of the packaged or processed alternatives. One study even showed that spinach harvested in-season had three times the Vitamin C as when it was harvested out of season! Locavore tells you just that- what's in the season and in how many days should you consume the particular food to enjoy its full nutrients. It can also use your phone's GPS to find the closest places to buy locally grown, in-season produce. Take around this free app to buy in-season, fresh and local food everywhere.
Calorie Counter
There are lots of smartphone apps that count calories, but unlike others, the FatSecret version of Calorie Counter doesn't ask you to break a food into ingredients to do its task- which can be time consuming. This one is likely to have the whole meal already in its database – even restaurant and prepared foods. It also comes with a food diary and exercise log so you can compare calories eaten with calories burned. Cost: free.
Endomondo
Need a little extra motivation? Endomondo allows you to create an account and get motivated by your friends everytime you break a mile. It tracks your route via Google Maps, and tracks your workout history whenever you run, cycle or walk. It even compares the results later. Not impressed yet? Listen to this- it can be upgraded to work with special Polar heart rate monitors! We can see you downloading it already.



My Fitness Pal
This app can truly become your fitness pal by motivating you through the weight loss journey. It takes your weight, height, goal weight and lifestyle into account before giving its recommendations. In no time, it breaks down your big goal into a smaller one-month target. This makes the number look achievable. When you are eating out, leave the guesswork out by accessing calorie counts and nutritional information from local restaurants on it.
Eat This, Not That! The Game
Stuck in the big fix of which food to pick- chilli dogs or cheeseburger? Well, this isn't really allowed when you are eyeing weight loss but, if you seriously must, this app helps you to pick one less-bad food over another. Pick up a few quick facts on this app and avoid getting fixed in a "hot-zone" situation.
Weight Watchers Mobile
Weight Watchers is one of the only "diets" that people can actually maintain over time, due to it's moderate, practical approach. With the app, members can take pictures of their meal and the app automatically converts the meal to Points. It also keeps track of exercise, and automatically syncs information with a user's online account.

While at this stage, it will be too early to have a long-term data of people who have lost weight with the help of smartphone apps, the outlook is promising. It is because such apps provide support, accountability, flexibility, consistency, and motivation to their users, which become the triggers of successful weight loss and maintenance.
Read more articles on Health Apps.