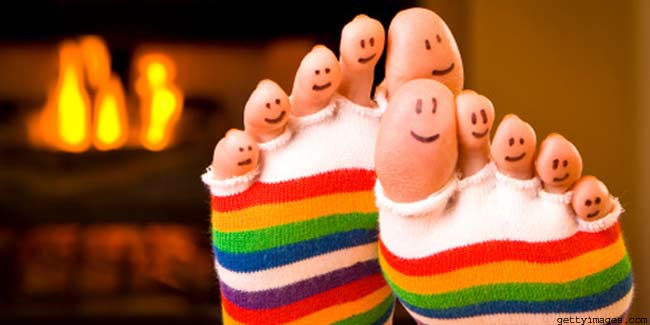 Your feet are the most exploited part of your body. Would you do all you can to take care of them? If yes, take a look at this guide for happy feet this winter.
As soon as winter arrives, people get into an extensive body care regime to ward off any danger that is symbolic of the chilly winds. But, are you working your feet out a bit too much?


With winter spelling dryness all around, a lot of people develop cracks in the feet, which if ignored can lead to lot of serious troubles in need for medical attention. Even worse is bleeding from the cracks, which happens to a lot of us who couldn't care less about feet care. Now, even if you want to sport your favourite pair of shoes you can't do that with those painful cracks popping out and that dryness snowing on your feet. There are certain tips that you can employ to make sure your feet are as pretty as you always want them to be.
Cover 'em Up
A very simple way of protecting feet from dryness and its other fretful impact is covering them up in with the help of socks. If the skin near your heels gets wet, it will soften the tissue and make the particular area susceptible to trauma in the form of cuts, blisters, abrasions, frostbite, etc. It is therefore, important that you pull out all your pairs of socks and keep them handy, whether you are a male or female. Wearing a clean pair of socks will provide better hydration to the feet.
Provide Arch Support
If you are pregnant or have just given birth, this is the time for your body to put on weight exerting pressure on the arches. Provide arch support in your shoes to keep strains to the legs away. A lot of shoes in the market are backed with arch support.
Moisturise
Before you got to the bed at night in winter, make sure that you apply Vaseline or some kind of moisturising cream to your feet, especially around the heels. This will make the skin of the heel more flexible and resistant against freezing cold. Moisturising the feet after a warm bath will prove helpful in protecting your feet.
Keep the Comfort of your Feet Intact
Keep your likeness for high heeled shoes underground in winter because wearing them can put a lot of stress on your legs. If you are in a profession that requires you to stand for longer duration, you must absolutely avoid high heels as they can cause chapped and sore ankles. Wearing comfortable shoes will ensure that stress crackling of the feet or skin is reduced significantly.
Pamper
Your feet are the most exploited part of your body and therefore, deserve much more of the care that you give other parts of the body. Massaging feet is one of the best ways in which you can make sure that you feel comfortable and relaxed for most part of your day. This is because massaging improves blood circulation, thereby keeping it moisturised.

It is important to note that feet care requires one to be extremely cautious and attentive. Following the above mentioned tips may prove fruitful.
Read more articles on Feet Care.