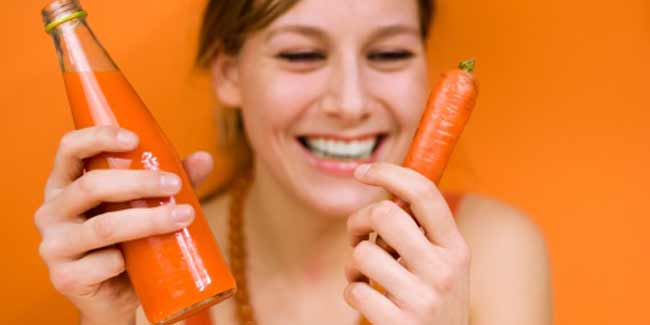 The high quality vitamin C and other rich nutrients in carrot juice efficiently nourish the skin, preventing dry skin, psoriasis and other skin blemishes. Learn here magical benefits of carrot juice for skin.
Our red and orange friends are too versatile in terms of nutrients and minerals that we can't just leave them for Bugs Bunny. Carrots' miraculous concoctions of nutrients offer various health benefits. Drinking carrot juice daily is a habit everyone should start. It is offers of the finest and highest qualities of nutrients because it is an excellent source of pro-vitamin A, vitamins C, D, E, K, B1 and B6.

Carrot juice benefits for skin are plenty but they get overshadowed by its aids in lowering your blood sugar, improving eyesight, preventing cancer, stimulating appetite, and promoting lung health. Here are ways you can use carrot juice to care for your skin and have a shiny appearance.


Benefits of Carrot Juice for Skin: Contains Vitamin A
A good moisturiser is essential to a skin care regime but one thing that is more important is that your skin should be nourished from the inside. And this makes the biggest difference to your skin tone. Do you know what happens to your skin even with the mildest vitamin A deficiency? It becomes dry, rough and blemished. The wounds don't heal properly. Not only this, low vitamin A intake has been associated with skin problems like acne, rashes, eczema and psoriasis.

Now, drinking carrot juice for skin is good because carrots are rich in pro-vitamin A beta carotene and alpha carotene. This vitamin A is involved in tissue growth development throughout the body and promotes healthy skin renewal.

With drinking carrot juice regularly for a few weeks, you will notice a visible improvement in your skin tone and texture. And what's better is that carrots are a lot cheaper than those expensive buy unyielding face creams.
Benefits of Carrot Juice for Skin: Contains Antioxidants
If you read our informative posts regularly, you must by now be well aware of how harmful UV rays can cause your skin to age prematurely. It is the beta-carotene, alpha-carotene and other carotenoids and antioxidants in carrot juice that acts as a defence for your skin against the free radicals from UV light. They stand against high energy blue light and environmental pollutants that damage to your skin and break down collagen, which in turn causes wrinkles and ageing.




People who eat a diet low in antioxidants, can procure an irreversible oxidative damage to their skin. Freshly extracted juice of carrots is one of the best ways to flood your body with antioxidants.
Benefits of Carrot Juice for Skin: Has Vitamin C
Carrots do not contain vitamin as high as some other energy foods, but they do contain it in highly absorbable form. A powerful concoction of antioxidants and vitamin C in carrot juice assists in creating collagen to help prevent wrinkles and maintain healthy skin tone.

Face creams that boast of providing bovine collagen for your skin don't really have an advantage to prove because they are put on the outside of the skin. A far more effective way to create collagen is to ingest enough vitamin C through carrot juice for skin.

Adding fruits high in vitamin C like kiwifruit or lemon juice when you make your carrot juice can also greatly enhance its potential to protect and improve your skin.


Benefits of Carrot Juice for Skin: Cleanses Liver
When your liver is overworked, it faces difficulties in getting rid of toxins from your body and which some out in the form of skin problems. So, if you have skin problems, getting your liver healthy is one of the first places to start.

In order to make your liver healthy again, you need to provide it with nutrients. Carrot juice is an excellent liver cleanser and healer. Adding other vegetable juices like beetroot and celery can enhance its cleansing effects even more and give the liver a chance to recover and work efficiently again.

Given all the health benefits associated with the consumption of carrot juice, it's a wonder more people don't make it a regular part of their routine. Carrots and carrot juice offer so many benefits that they just may be the world's most perfect food.

Image Courtesy: Getty

Read more articles on Skin Care.