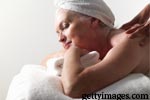 Massage therapy is one of the best treatment options for people of all age groups, especially seniors, for aches, pains or strain in the muscles triggered by the process of aging.
Massage therapy works best for people suffering from aches, pains or strain in muscles that occur as a person ages. A massage therapy is a healthy combination of pressure, technique and relaxation meant to harmonise and strike the balance between the mind and the body. Such massages that are specific to ageing are called the senior's massage or geriatric massage. The benefits of massage therapy for seniors are as follows.
Massage therapy for seniors does not differ much in terms of technique used in normal massages. However, the massage therapy for seniors requires more tenderness and caution that can be only provided by trained professionals. An elderly body should always be positioned carefully and adequate precaution should be taken so that the body does not get hurt due to excess of pressure. Such massages usually help in improving the blood circulation in the veins if done properly.
Massage therapy for seniors that usually lasts for 30—40 minutes helps the ageing person mobilise his/her joints. Ageing people often develop frozen joints or shoulders due to lack of activity. A massage is the best way to relieve oneself of that pain.
Apart from that, in case of a geriatric massage, the trained masseuse tends to focus more on the hands and the feet of the client as they are the weight-bearing and most active limbs of the body. This benefits the ageing person considerably as the pressure points stimulate the feeling, alertness and the circulation in all parts of the body.
Such massages, if administered with great care, helps the ageing patients reduce stiff muscles, frozen shoulders, problems related to the cervix and prevents skin discolouration and muscle and bone deterioration. Many patients also get considerable relief in asthma as the circulation pattern and technique used in this massage helps in regularising the breathing patterns of the body.
With ageing, many people develop depression or loneliness. A massage can benefit them a great deal and show indicative relief providing them that extra vitality in their daily lives.
The benefits of massage for seniors remain therapeutic and can give the ageing people a priceless comfort. There are several wellness spas and certified massage centres that have trained professionals who administer massage therapies suited for individual body types. Find out the nearest one for yourself!