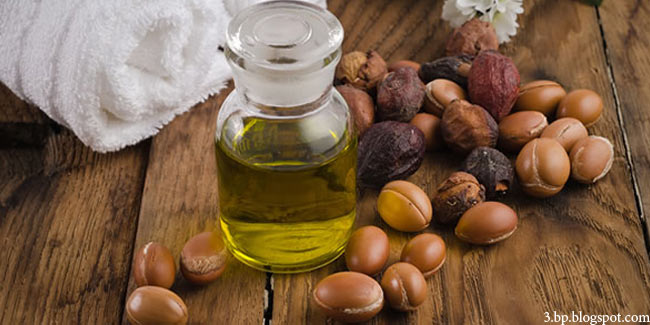 Argan Oil has several benefits for hair. Learn about them, here.
Argan oil is pressed from the green nuts of the Argan tree ('Argania Spinosa') found mostly in Morocco. The Argan tree does not start producing fruit until it is 30-50 years old and because the tree is found only in a limited area, the oil itself is rare and expensive.
[Read: Best Vitamins for Hair and Skin]
This rare oil is highly valued because of its wide array of uses and its recognized cosmetic benefits. Moroccan Berber women have used Argan oil for centuries to protect and nourish their skin, hair and nails. Today, it is popular as a miracle ingredient in the Western beauty product industry due to its high levels of vitamin E and 80% fatty acids. This makes Argan oil suitable for healing skin ailments and protecting against premature aging.
Some of its primary benefits include:
Healing and Protecting

Active ingredients called 'Triterpenoids' occur in Argan Oil offering valuable skin protection. This includes tissue healing (scars), sun protective, disinfectant and anti-inflammatory properties. The oil contains 80% unsaturated fatty acids and is resistant to oxidation. It also contains a group of compounds known as 'Plant Sterols' or 'Sterolins'- these improve skin metabolism and promote moisture retention.
Anti-Aging

Argan is regarded as an effective anti-aging oil due to its high levels of Vitamin E, Tocopherols (anti-oxidants) and Saponins (skin-softening agents). Cosmetics expert Marla Malcolm Beck, CEO of Blue Mercury Apothecary and Spas states that 'Argan oil has incredible conditioning and anti-aging properties that keep hair and skin revitalized'. It prevents the skin from premature aging symptoms like wrinkles and crow's feet by restoring the skin's hydro-lipid layer, help's minimize fine lines and can also be used to prevent stretch marks. Furthermore, the oil helps people with mild acne as its oleic acid helps promote healthy levels of sebum production, and its linoleic acid helps prevent excess dead skin cells. Argan oil also cools and soothes inflammation of the skin. Argan oil can be used in its pure form on the face, handsand body as a moisturizer.

Good for Hair

Argan oil is used to calm frizzy ends, add moisture to dry hair as well as to add a little shine. It can be applied to damp hair or to the scalp if it is feeling dry and itchy. It is also useful in getting rid of dandruff in hair.
[Read: Benefits of Shea Butter for Hair]
Medicinal Properties

Argan oil is also referred to as the 'Tree of Life' as it has a variety of uses within the medical spectrum. They are as follows:

• Contains rare 'Plant sterols' not found in other oils that aid inreducing inflammation and helping block cholesterol absorption from the intestines. They also show anti-cancer properties.
• Oleic acid in Argan oil makes it a practical solution for those who have high cholesterol levels by limitizing and maintaining it. Website-www.arganoilsociety.org dedicated to Argan oil- state that a very small quantity of Argan oil could considerably lower the cholesterol level for over a month.It is thus helpful for stimulating circulation and strengthening the body's natural immunity.
• Argan oil facilitates digestion by increasing the concentration of a digestive enzyme called -Pepsin in the gastric juices. This helps aid digestion and acts as a natural anti-inflammatory.
• Antioxidant Vitamin E is present in a large quantity in Argan oil- which is very good for regulating functioning of the heart and sex organs. As a result, it is traditionally also reputed to be an aphrodisiac- increasing sexual desire and ability as well as having tonic properties.
• The oil is considered highly beneficial for arthritic or rheumatic conditions by slowing down the degenerative processes in long bones of the body.
• Argan oil is also thought to be anti-Acne and good against skin ailments such as chickenpox, psoriasis and eczema. It is also used to prevent stretch marks during pregnancy.
Read more articles on Hair Care.