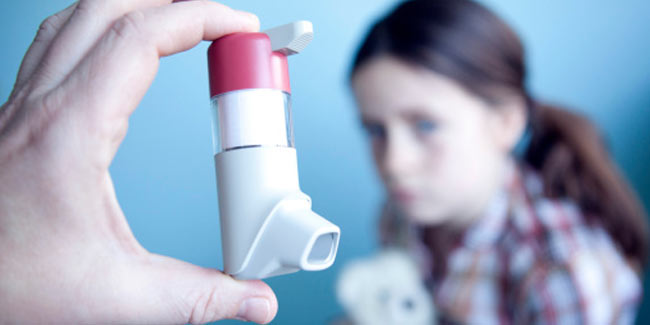 Trembling hands, irritability, insomnia, dry mouth, sore throat, stomach problems and more are some of the side-effects of asthma inhalers. Here is a brief insight on asthma inhalers and whether they are a bane or a boon for asthmatics.
Nasal decongestant sprays and asthma inhalers relieve nasal congestion on a temporary basis and provide immediate relief to patients who have been battling asthma over a long period. Asthma inhalers are not advised for patients with mild asthma or bronchitis as it can increase congestion or even worsen the condition.

Why is an Asthma Inhaler Prescribed?
Asthma inhalers are recommended to patients to aid in the process of unclogging and opening the air passage to the lungs. The air passage is narrowed owing to mucus build-up and muscle spasms. Asthma inhalers are prescribed to relieve these issues but may have serious side-effects.

Identify an Asthma Inhaler
Albuterol is a commonly prescribed asthma inhaler. Newer brands have entered the market but haven't penetrated to the extent that Albuterol has. Other asthma inhalers are Vospire, Ventolin, ProAir and AccuNeb. Their dosage may vary from 0.63mg, 1.25mg to 2.5mg. Albuterol can be given to patient in a syrup or the tablet form. Steroid inhalers are given to patients suffering from asthma at the tertiary level.
Common Side-effects of Asthma Inhalers
Albuterol is a generic asthma inhaler prescribed to asthmatics but it can have serious side-effects. Some of these side-effects are as follows.
Side-effects of using an asthma inhaler will be observed during the first few weeks of usage. Patients will feel trembling in their hands, nervous, irritable, insomnia and stomach problems initially.
Dry mouth and sore throat are common issues faced by asthmatic patients using inhalers.
A runny nose and nausea are common irritants to asthmatic patients but can be heightened by the use of asthma inhalers.
Serious side-effects like wheezing, palpitation, chest pain and dizziness are faced by the users of steroid based asthma inhalers.
Altered taste sensations, light-headedness, loss of appetite will occur initially but if monitored by the doctor, they will subside over the course of time.
Muscle pain and bone pair will be experienced if patients are using inhalers. It will make your system weak and lower the immunity levels making you susceptible to contracting more health problems such as flu.
If inhaled at lower doses they have lesser side-effects. If higher doses are consumed, there is a possibility of yeast infection in the mouth.
Symptoms of allergic reaction to asthma inhalers may include rashes, itching, swelling which will be overtly visible on the skin.
Consult with your doctor regarding any visible or covert changes in your body's physiology during the course of asthmatic treatment.
Image courtesy: Getty Images
Read more articles on Asthma Treatment.