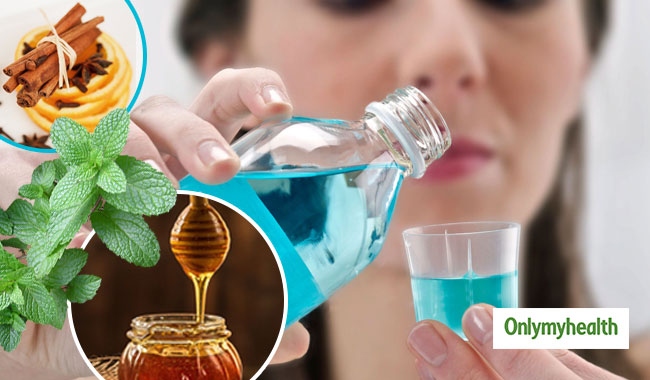 Artificial mouthwashes contain toxic chemicals that can harm your body. But, it is an important oral hygiene product. The good news is that you can prepare your own homemade mouthwash using the natural ingredients from your kitchen.
It is difficult to escape toxic products because we come across them several times daily and use them without thinking twice. In fact, many beauty and hygiene products come under the list of toxic substances. You expose yourself to various chemicals when you use detergents, bug sprays and mouthwashes. In case you didn't know, mouthwash is toxic.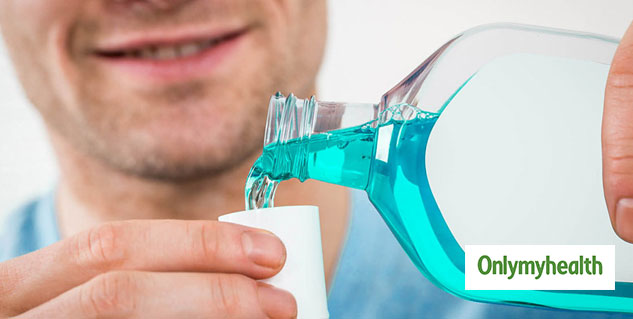 For better or worse, you require a lot of mouthwash and you end up ingesting a lot of it. This is dangerous because it contains chemicals like chlorhexidine gluconate, ethanol (ethyl alcohol), and methyl salicylate which can become poisonous. Though the odour-causing bacteria in your mouth may be reduced by these chemicals, high-concentrations can actually disrupt your cell membrane. Chemicals like ethanol and alcohol have been linked to an increased risk of oral cancer.
But, of course you can't ditch the mouthwash because bad breath is worse. Don't worry, you can make your own natural mouthwash at home and be toxin-free.
Benefits of Homemade Mouthwash
A DIY mouthwash can provide multiple benefits for your mouth and overall health. Here are some benefits listed.
Cost- Homemade mouthwashes are inexpensive and will cause only a fraction of what your store-bought bottle does. Yet, they give you the same or better benefits.
Harmless- Artificial mouthwashes are often laced with dyes, preservatives, artificial sweeteners, and other chemicals which can be harmful. A DIY mouthwash can be made tender according to your needs.
Alcohol-free- Most store-bought mouthwashes contain alcohol which actually dries your mouth and causes bad breath. You can choose not to include alcohol in the mouthwash you are making by yourself.
Quality of Ingredients- While making your own mouthwash, you can choose the ingredients of finest quality. Manufacturers often cut the cost of production by using unrefined quality of ingredients.
Also read: Does Mouthwash Discolour Teeth?
Recipes for Homemade Mouthwash
Now that you know the disadvantages of an artificial mouthwash and resistless benefits of a homemade one, you might want to prepare one by yourself. Here are some easy recipes that involve ingredients easily found in every kitchen.
Cinnamon, Honey and Lemon Juice Mouthwash
Take ½ tablespoonful of cinnamon powder in a bottle or jar with a tight-fitting lid, and add the juice of 2 freshly squeezed lemons along with 1 ½ teaspoonfuls of honey. Now, pour 1 cupful of warm (almost hot) water which should melt the honey into the jar, and then stir well. When you need to freshen up your breath, give it a quick shake and swish it for a minute.
Minty Clove Mouthwash
Bring 1 cup of water to boil and add a teaspoonful of whole cloves, 1 teaspoonful of ground cinnamon and 4 drops of peppermint essential oil to it. Remove from heat and let the spices infuse for about 10 minutes. Strain the mixture twice with a fine mesh strainer, pour into a bottle with lid and keep it refrigerated. Gargle with it every time you brush your teeth.
Baking Soda and Tea Tree Mouthwash
Mix together ½ cupful of filtered or distilled water, 2 tsps of baking soda, 2 drops of tea tree essential oil, and 2 drops of peppermint essential oil in a mason jar for an antibacterial natural mouthwash. Shake the mixture well every time you want to rinse your mouth with it because the baking soda may settle down at the bottom of the jar.
Also read: Avoid these 5 common habits that harm your dental health
You should especially go for making your own natural mouthwashes if you have children at home. You don't want the toxic ingredients of artificial rinses to harm their little bodies. Homemade mouthwashes can keep your oral hygiene intact without causing any harm.
Read more articles on Dental Health.
For more related articles, download OnlymyHealth app.