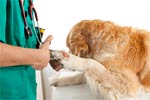 The following treatments may be opted for in case of arthritis for pets:
A diet rich in omega-3 fatty acids must be given to the pet, as with a concentration of fish-oil pills, in order to avoid rectify the inflammation-situation.
Pain in arthritis may be cured by giving sea cucumber.
Bovine cartilage and shark cartilage are always helpful in repairing the joints.
Vitamin c is as essential as zinc and manganese, whereby, the former helps to provide the tissue support to the bones, while the latter helps the body in utilising the anti-oxidants.
Also, glucosamine sulphate is administered to the pet.
Even MSM is useful in such a case.
Supplements may be added to the diet to provide additional nutrients to the body of the pet.
Green-lipped mussels contain glucosminoglycans and the minerals and vitamins that an animal's body needs to repair the cartilage. It is, thus, a very useful treatment.
Read more articles on Arthritis